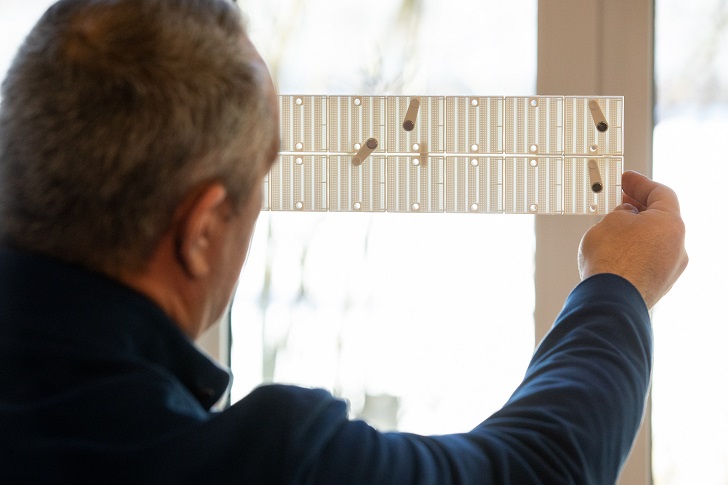 A study has confirmed the effectiveness of air filtration technology with a wet filter design. It removed 99.9% of airborne dust, pollen, and nano-fine particles such as bacteria and viruses in a classroom in under 2.5 hours.
An independent field study capturing over two million data points showed that Dexwet Pure Air Filters contain air filtration technology which maintained airflow while filtering the entire classroom's air volume every 48 minutes, proving it to be a practical, safe, quiet, sustainable, and cost-effective solution for classrooms around the world.
Peter Tappler, one of the world's top air quality experts, led the team at IBO Interior Analysis OG to collect and analyse data captured while first-grade students were attending their classes. The study demonstrates the effectiveness of Dexwet's filter technology to transform a heat radiator into a sustainable, year-round air purifier without the noise or expense of added energy costs or replacement filters. 
Sustainable solution Dexwet Pure Air Filters allow the highest air flow stream to pass through a patented staggered rod system. These rods are coated in a non-toxic oil solution to permanently capture airborne particles of all sizes while allowing pure, clean air to flow through, making them well-suited for classrooms and any other shared enclosed rooms. The wet filter design is also sustainable, as they are entirely silent, require no energy, and can be washed annually for reuse. 
Gregory Scott Newsome, board director and chief financial officer of Dexwet Air Filters, said: "Parents, teachers, school officials, and government authorities across the world have waited for far too long for a solution to bring students safely back into classrooms. Our technology has been used behind the scenes for machine health for many years, now the air filter technology can be used for a greater, human health good. We could not be happier with the results of this study as they present real-life scientific evidence that this technology dramatically improves indoor air quality in classrooms."
The company will offer its Pure Air radiator filters to schools across Europe through its service partners as a sustainable solution to purify indoor air and provide students with the best environmental conditions. The company is currently seeking partnerships with HVAC service companies in North America as they plan to offer Pure Air filter technology to the US. 
Independent study IBO Interior Analysis OG's study at Volksschule Hainfeld School, located near Vienna, Austria, monitored the classroom's air quality under varying conditions during several weeks in February and March 2021. Their team captured over 2 million pieces of data analysed to determine that the filters were highly effective in filtering 99.9% of air particles, with the fastest and most effective filtration of PM1 sized particles like airborne bacteria and viruses and the total room volume was filtered continuously every 48 minutes. The study was conducted at the school principal's request and the Mayor of Hainfeld.
Peter Tappler said: "…we have proven that the products (Dexwet Pure Air Filters) that were mounted on the radiators evidently led to a tendency towards a reduction in fine dust pollution.." In 2020, Tappler, who serves as a leader in the Austrian Ministry of the Environment, reviewed the filters through his private institute and concluded these Pure Air Filters successfully captured particles and would be effective against capturing the airborne SARS-CoV-2 virus that causes Covid-19. 
About the author This article was written and supplied by Gregory Scott Newsome, chief financial officer and board director at Dexwet Air Filters.