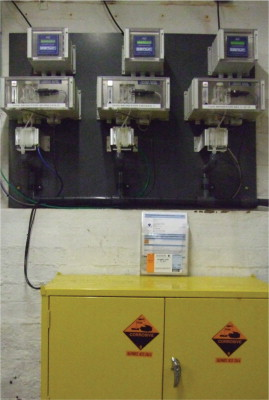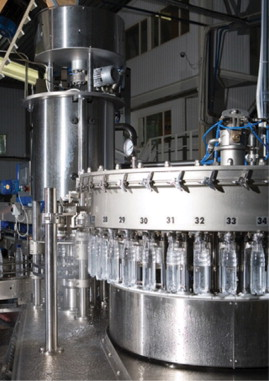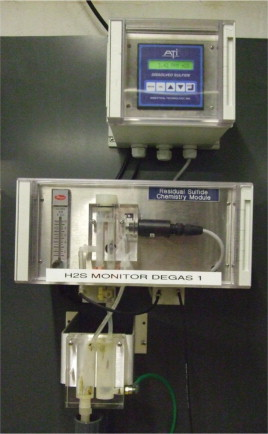 Introduction
Britvic Soft Drinks Ltd is a UK supplier of branded still soft drinks and branded carbonates. Based in Chelmsford, Essex, the company operates seven manufacturing sites across the UK, producing an extensive range of recognised brands including Pepsi, Tango, Robinsons and J2O. In addition to its manufacturing facilities, Britvic has an established infrastructure consisting of a national distribution centre, an IT and central services department, numerous local distribution centres and an on premise and vending division.
Britvic's Huddersfield factory is a water bottling facility operating two boreholes, one classified as spring water and the other as mineral water. The site houses two high speed water bottling production lines operating 24 hours per day, six days per week. According to current legislation, the quality of water produced at the Huddersfield factory must be monitored for manganese, barium and mineral content. Retention samples must also be taken at regular intervals to test that micro-biological levels are within specification. Britvic recently worked with Analytical Technology to implement effective monitoring controls for hydrogen sulphide which would enable accurate measurement as well as compliance with strict legislation.
Challenge
Bottled water in the UK is strictly controlled by The Natural Mineral Water, Spring Water and Bottled Drinking Water Regulations (England) 2007. The regulation specifies that bottled water should not contain any micro-organism, parasite, property, element or substance at a concentration or value which would constitute a potential danger to human health.
Hydrogen sulphide (H2S) is formed when soluble sulphides are hydrolysed in water and has an offensive 'rotten eggs' odour and taste which is detectable even at very low concentrations. The World Health Organisation (WHO) estimates the taste and odour threshold for H2S in water to be as low as 0.05 mg/litre. Although oral toxicity data are lacking, it is unlikely that a person could consume a harmful dose of H2S in drinking water. As a consequence, WHO has not set a health-based guideline value of H2S in drinking water. UK regulations do not require hydrogen sulphide monitoring; however WHO makes it clear that H2S should not be detectable in drinking water by either taste or odour.
In order to ensure optimal product quality and customer satisfaction, Britvic reviewed its Hazard Analysis and Critical Control Points (HACCP) plan and identified the need for accurate, real-time monitoring of H2S levels in finished bottled products. Britvic required reliable instrumentation that would enable accurate monitoring of soluble H2S levels in water that comes directly from each of the boreholes, after processing through air scrubbers/de-gasser towers and after manganese filtration.
Solution
The measurement of dissolved sulphide concentrations has been traditionally performed using analysers employing selective ion electrodes (SIE) for sensing. While providing adequate sensitivity, SIE based systems require frequent zero and span adjustments to maintain measurement accuracy. As a result, most SIE-based monitoring systems are relatively expensive and require frequent service.
Britvic selected the A15/81 dissolved sulphide monitor from Analytical Technology because it is the only system that can monitor soluble H2S in water on a real time basis. The system overcomes the problems caused by conventional dissolved sulphide monitoring systems, providing an improved method for measuring sulphides in solution. Rather than using an SIE sensor, the A15/81 employs a polarographic H2S gas sensor which is isolated from the sample, enabling continuous operation on many types of water and wastewater streams with minimal maintenance and adjustment.
As sulphide measurements are often taken from poor quality samples, analytical system fouling can be a major concern. For Britvic, a key advantage of the A15/81 monitor is that the sensor does not come into contact with the sample. Only the gas stream containing the stripped H2S reaches the sensor. As a consequence, the system continues to function regardless of the quality of the sample. The only requirement is that large particulates be strained from the sample. The monitor can easily pass particulates as large as 100 microns, thus requiring only course screening.
The A15/81 measures sulphide ions selectively by conversion to hydrogen sulphide. Monitoring sulphides in solution using the gas stripping technique provides extremely high measurement sensitivity allowing for measurement of samples down to 5 parts-per-billion levels. Because the gas sensor is very stable, monthly zero and span checks are all that is needed. A separate port is provided to feed distilled water or sulphide standards when required, without disrupting normal sample inlet flow.
It was also imperative for Britvic that the chosen dissolved sulphide monitor be easy to operate and maintain. Acid usage for pH adjustment in the chemistry module of the A15/81 is inexpensive and consumption is limited to one gallon every 40 days. The peristaltic pumps used for the sample and acid have a long-life tubing capability which requires replacement every six months while the pump heads are designed for easy tube changes, requiring approximately 10 minutes to replace both tubes. In addition, the sulphide gas sensor requires no maintenance other than an occasional visual inspection to ensure that no deposits have collected on the sensing membrane.
Analytical Technology fitted a trial unit in less than a week after the first meeting. This trial proved so successful that the tender moved from an initial four units to a total of six units. The monitors were installed at Britvic's Huddersfield factory; three on each borehole line being fitted in a central location. Sample points had to be installed in six different sections of the process and connected to the H2S monitors. The installation of the sample points was undertaken internally by Britvic personnel whereas the fitting of the monitors was carried out by Analytical Technology staff. Due to the nature of the work that had to be done by Britvic staff, involving breaking into stainless steel pipe-work and fitting stainless steel sample taps, the installation was completed in controlled phases. The two boreholes were treated as two different projects. Once Britvic had completed their part of the installation process, Analytical Technology fitted and commissioned the monitors.
Following installation, Analytical Technology provided Britvic with full operational training on a one-to-one basis.
Benefits
Since implementing the monitors, Britvic has been able to ensure that its bottled products are accurately and continuously monitored for hydrogen sulphide. The company has achieved this goal while also ensuring that costs and maintenance are kept to a minimum and reliable results are generated in real time.
"Our customer services expectations include Right First Time, flexible installation due to the nature of FMCG [Fast Moving Consumer Goods] processes as well as a rapid response to queries and quick resolution of any issues as and when they are identified. It is also important that contractors work within our site standards for health and safety and that risk assessments and method statements are supplied to cover all scoped works, as well as waste product and packaging being removed by contractors. Analytical Technology performs excellently against all these expectations," explained Jason Gledhill, continuous improvement co-ordinator, Britvic. "The company takes a very flexible and professional approach to system implementation and technical support that really differentiates the company. When requested, support is usually delivered within a 24 hour period. In addition, the cost of the units was minimal compared to the scope of the project that the install was incorporated into."
Conclusion
Hydrogen sulphide can be found naturally in drinking water systems, causing taste and odour problems. Although the levels of H2S in drinking water does not normally constitute a cause of concern for human health, WHO has made it clear that the chemical compound should not be detectable in drinking water by either taste or odour. In order to comply with this requirement, Britvic needed a dependable dissolved sulphide monitor for its Huddersfield water bottling facility. By implementing the A15/81 dissolved sulphide monitor from Analytical Technology, the company has been able to monitor soluble H2S in water on a real time basis and assure optimal product quality. •