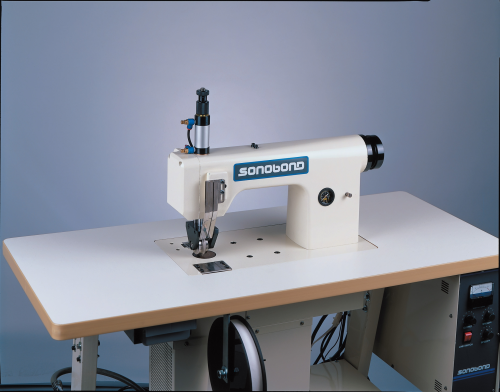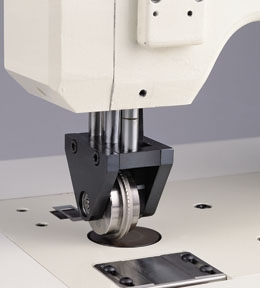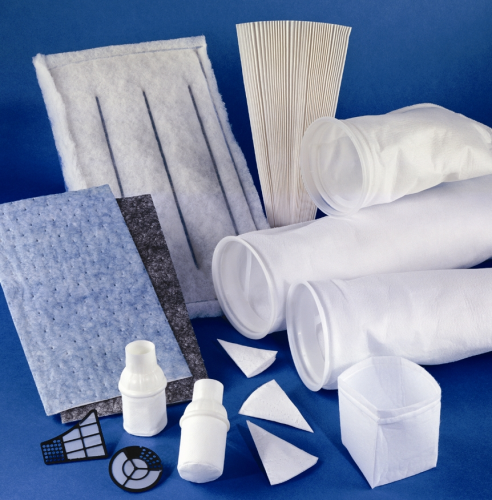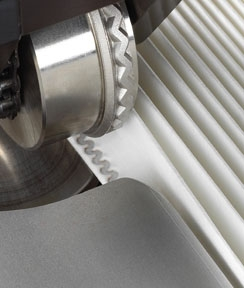 Aberdeen manufacturers, Enfilter, carefully investigated various bonding methods before determining that Sonobond technology was the most cost-effective and efficient solution for their bonding requirements.
Managing director of Enfilter Andrew Clark says, "We identified a number of options for our seaming process. As a new division of the Abenco Group, we wanted to make sure we were selecting the most up-to-date equipment. Sonobond technology stood out above all the others. I am pleased to say that we have not been disappointed by our choice of the Sonobond SeamMaster™ High Profile Ultrasonic Bonder."
This equipment, provided by Sonobond Ultrasonics of West Chester, Pennsylvania, USA, is similar in appearance to that of a commercial sewing machine. However, it uses high-frequency ultrasonic vibrations instead of needle and thread. As nonwoven or synthetic materials pass between the unit's wheel and horn, vibrations are directed into the fabric to create a rapid buildup of heat. This causes the material's fibers to soften and fuse. A strong, reliable bond is quickly created without glue, thread, or adhesives. The process has the additional advantage of being environmentally friendly because it produces no harmful by-products. 
The technology creates bonds that are more dependablethan those produced by stitches, glue, or hot air. In fact, the bonds are so well sealed and fused that many U.S. manufacturers use Sonobond equipment to help them
comply with Occupational Safety and Health Administration (OSHA) regulations governing barrier seams. The materials best suited for ultrasonic bonding are those that are 100 percent synthetic or blends with up to 40 percent natural fibers.
Using Sonobond's ultrasonic bonding equipment means manufacturers no longer need to be concerned about needle and thread breakage, thread color changeover, and thread unraveling. Ultrasonic bonding also virtually eliminates fraying or unraveling of edges and seams. In addition, the SeamMaster™ reduces production costs because it takes up only a minimal amount of material at the seam.
 Sonobond ultrasonic bonding equipment expedites the filtration assembly process by sealing, sewing, and trimming in one quick pass.Despite the unit's similarity in appearance to commercial sewing machines, the SeamMaster™ High Profile Ultrasonic Bonder operates at much faster speeds. It produces a reliable bond up to four times faster than sewing machines and up to ten times faster than adhesive methods.
Melissa Alleman, vice president of Sonobond describes the Sonobond SeamMaster™ High Profile Ultrasonic Bonder as ideal for specialized applications in the engineered fabrics, textile, and apparel industries. She says,
 "Those familiar with the SeamMaster™ are always impressed by the way Sonobond has engineered this unit to combine several labour-intensive operations into one. For example, it features a variety of interchangeable roller patterns for seaming, hemming, embossing, and printing and because the SeamMaster™, like other Sonobond bonding equipment, is able to perform its functions in one quick pass, there are valuable savings in time and money for filtration assemblers and other manufacturers."
The Sonobond SeamMaster™ is available in three versions, the standard machine (SM86), the pleated filter version (SM86PF) and the modular version (SM Module) for easy integration into production lines. However, Sonobond works with each customer to customize its bonding equipment to their specific application. 
In discussing the Enfilter installation, Alleman says, "Here at Sonobond, we recognize that every application is unique. So when we began talking to Andy Clark about installing Sonobond equipment in the Aberdeen plant, we ran a series of trials in our Applications Laboratory. These involved trying different patterns and settings, which we sent to Enfilter for testing. This process ultimately determined the correct pattern wheel design and settings for their specific production requirements. We mounted a custom pleated filter fixture onto the SeamMaster™ to meet Enfilter's requirements."
According to Alleman, the pleated filter fixture used by Enfilter is an important option. She explains, "The SeamMaster™ has a higher clearance between the wheel and the horn than do traditional sewing machines. This makes it ideal for hand-guided applications with tight tolerances, as well as for working around curves."
In discussing their use of Sonobond technology, Andrew Clark says the addition of the SeamMaster™ has had important benefits for Enfilter. He describes Sonobond's equipment as "fast and efficient". When asked to comment on the unit's reliability, he says, "In the time we have had the unit, we have had no downtime except for routine maintenance. Sonobond has also been very ready to answer our questions and to provide whatever technical support we needed."
Mr. Clark's comment reflects Sonobond's longstanding, worldwide leadership role in the field of ultrasonic welding and bonding technology. During its 49 years of operation, Sonobond has earned an outstanding reputation for its pioneering work and quality-engineered ultrasonic bonding products. Today the company manufactures a complete line of ultrasonic welding and bonding equipment for a wide variety of customers in the filtration, medical, apparel, automotive, appliance, electrical, HVAC, and aerospace industries.
Sonobond technology is especially versatile in the field of filtration assembly.
It is used in the production of liquid and gas filter cartridges (such as those manufactured by Enfilter), HEPA-rated filters, swimming pool and aquarium filters, industrial and commercial vacuum bags, oil absorbers, automotive air filters, and more. In addition to its proven reliability and versatility, Sonobond equipment has the advantage of being easy to operate with only minimal training.
Sonobond's SeamMaster™ line of ultrasonic bonders is also used for general purpose sewing, lacing and quilting, medical disposables, ribbons and trims, and ballistic vests and body armor.
As part of its commitment to helping filtration assemblers find the optimal ultrasonic bonding solution for their applications, Sonobond offers an Ultrasonic Bonding Viability Test. Manufacturers are invited to submit samples of their products to the company's Applications Laboratory. Sonobond engineers and service personnel then make recommendations on the appropriate ultrasonic bonder to use and what customization, if any, is needed. There is no cost or obligation for this service. In addition to the free Ultrasonic Bonding Viability Test, Sonobond personnel provide close technical support before, during, and after every installation.