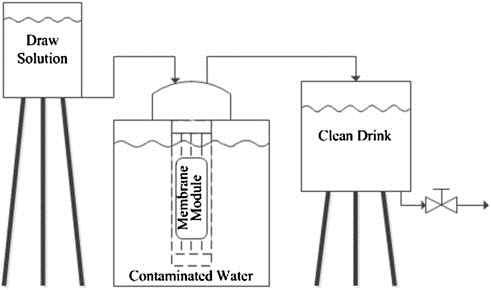 In emergencies and disaster relief, access to water plays a critical role in limiting loss of life. Point-of-use water treatment (PoUWT) is increasingly being used to meet this urgent need.
One emerging PoUWT technology is the osmotic water purification system from Hydration Technology Innovations™ (HTI), which produces a clean sugar–electrolyte drink from almost any water source. This drink not only hydrates users, but also relieves malnutrition and diarrheal illness, two of the most prolific killers in refugee camps and disaster relief scenarios.
In this study by researchers at the University of Connecticut – published in a Special Issue of Desalination on Recent Advances in Forward Osmosis – the HTI HydroWell™ system is independently evaluated for contaminant removal, cost, and material availability.
Benchtop testing shows that the HTI system has superior contaminant removal, rejecting >88.3% of copper, lead, arsenic, and chromium at concentrations of 10 mg/L.
The cost of the drink could be minimised to US$0.23 per litre by adjusting process variables. A sensitivity analysis shows significant room for cost reductions, especially if draw solutes could be locally sourced or if the system lifetime can be extended through the use of cleaning reagents or pretreatment.
Further research on long-term operation and maintenance, and community–technology interaction, could yield more information about the efficacy of forward osmosis for this application.