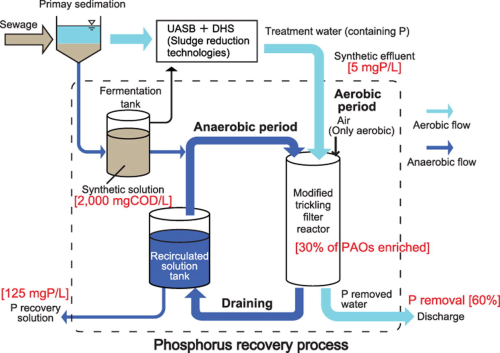 Phosphorus is an essential nutrient, and is predominantly used as an agricultural fertiliser. Phosphorus recovery from wastewaters and its recycling are therefore important for sustaining agricultural production.
During the conventional enhanced biological phosphorus removal process, phosphorus is removed by withdrawing excess sludge from wastewater. However, the disposal of excess sludge is costly and energy-intensive.
Here a Japanese team proposes a novel process for phosphorus recovery from sewage treatment, that results in no excess sludge if a polyphosphate accumulating organisms (PAOs) enrichment biofilm can be applied to effluents containing phosphate.
This process allows the recovery of phosphate as phosphate-concentrated solutions, by controlling PAOs to absorb and release phosphate.
A reactor consisting of a modified trickling filter with a synthetic substrate (5 mg P L−1) was operated to form a PAO-enriched biofilm. As a result of the enrichment, the concentration of phosphate of >100 mg P L−1 was successfully achieved.
During this experiment, no sludge withdrawal was carried out over the duration of the operation of 255 days.
To highlight the new process, the principle of enriching PAOs on biofilm and concentrating phosphate from treated sewage is explained, and a discussion on phosphate recovery performance is given.
Water Research, Volume 47, Issue 6, 15 April 2013, Pages 2025–2032.