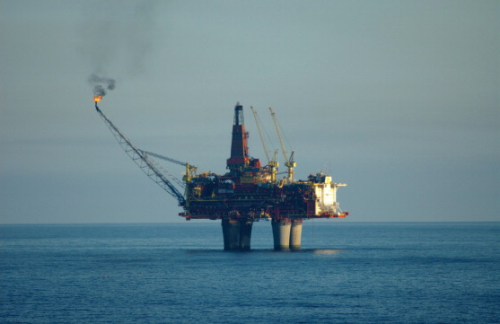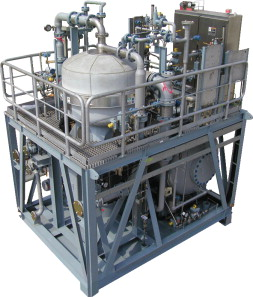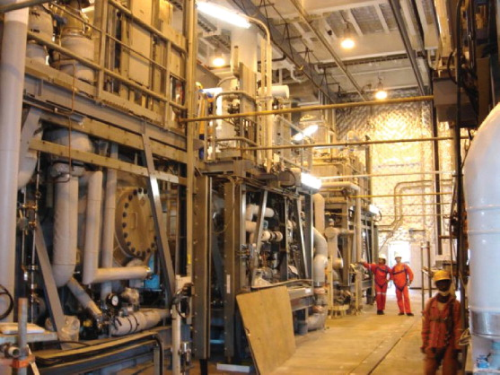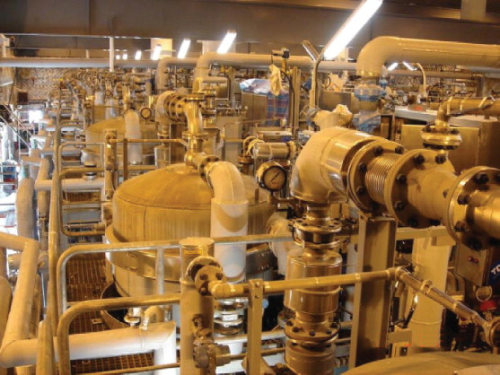 The Peng Lai 19–3 oil field, Bohai Bay is estimated to hold at least 500 million barrels of oil and is considered to be China's largest offshore oil discovery, potentially adding about 25% to current offshore production. It is thought that Peng Lai will become a hub for several other prospects in Bohai Bay, long after its oil producing days are over, giving it an extended life expectancy.
The Hai Yang Shi You 117, at 323 m long and 63 m wide, is one of the largest floating production, storage and offloading (FPSO) vessels ever to be built. The depth of the hull is 32.5 m and the distance from the bottom to the chimney is 71 m, which is as high as a 24-floor building. The 280,500 ton deadweight hull has storage capacity for almost two million barrels of oil, much of this being stabilised crude oil held in 16 storage tanks. Other tanks are integrated into the hull to hold produced water, diesel fuel and other liquids.
The new FPSO vessel is designed to take all of the oil or gas produced from a nearby platform and will process 190,000 b/d of oil and 510,000 b/d of gas fluid.
The Hai Yang Shi You 117 required a new centrifuge to separate oil and water which could handle solids and emulsions at the same time. Engineers at GEA Westfalia Separator demonstrated their determination to meet customer demands by designing a complete new centrifuge to meet the vessel's requirements. 
Oil characteristics
The unique design of GEA's centrifuge was created in direct response to the combination of oil characteristics in the area, Bohai Bay. The oil extracted in the Peng Lai oilfield is for the most part a heavy crude of nominally 14 — 20 API.
The oil is also hydrophilic, which means that it easily forms emulsions which are then difficult to separate. As well as this, the presence of insoluble napthenate salts that tend to accumulate at the oil-water interface can, in effect, stabilise the emulsion and further compound the problem.
Moreover, the napthenate salts often get deposited in equipment and pipelines and harden in contact with air — causing long term production difficulties. (This naphthenate problem can be solved by injecting acetic acid downstream of wellhead chokes — but this has led to the need for corrosion resistant metallurgy in the topside process.) A further complication of sand in the mixture adds to difficulties in separating out the oil. All this led the engineers to conclude that no suitable centrifuge was in existence — and that something new was required.
Conventional electrostatic oil-water separation technology was not appropriate to handle oil with the kind of characteristics found at the Bohai Bay oil field. Instead, the centrifuge applies a process whereby the crude oil is passed through two parallel three stage separation trains to separate oil, gas and water. The oil then passes through the banks of the centrifuges to separate out the emulsion to produce in-spec export oil. Because of the potential for sand contamination, centrifuges that could handle both emulsions and solids together were vital. 
Construction of the centrifuge
The Hai Yang Shi You 117 vessel's FPSO topside technology incorporates over 40 electrically driven GEA Westfalia Separator disk stack centrifuges including 30 dual service centrifuges for operation on crude oil emulsions and produced water, two for solids separation, three decanters, four centrifuges on crude treatment and two diesel centrifuges. Spinning at speeds ranging from 3200 rpm for crude oil separation, 2800 rpm for produced water treatment, down to 2600 rpm for solids clean up, each machine is designed and constructed for its particular duty. The units reportedly meet demands for operational reliability, weight and space requirements and are designed for plug and play operation and fully comply with the most stringent environmental requirements.
The disk stack centrifuges are mounted onto individual skids and are fully integrated into the process along with heaters, coolers, strainers, pumps etc, and are designed for continuous operation. The centrifuges are designed for high performance, ease of maintenance and restricted space operation with single lift points on individual skids for ease of handling prior to installation.
Although the vessel will not have a propulsion system, the hull of the FPSO contains two large machinery rooms and a number of shared equipment systems which link to the topside modules. In addition to GEA Westfalia Separator equipment and generators, there are also 30,000 pipe sections, 450 km of cable and 4500 instruments to install plus 6000 barrels of paint and solvent to apply before the vessel is ready for the sea. 
An interesting installation
The combination of the size of the project, the complexity of the liquid/solid separation duties make this one of the most interesting centrifugal separation installations in recent years for GEA Westfalia Separator that has led to the design of a new type of centrifuge.