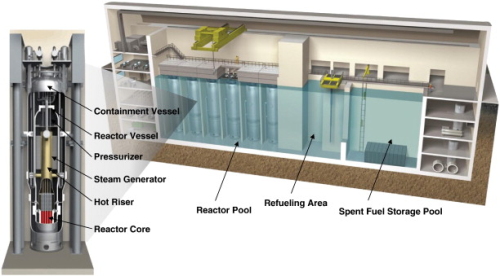 The worldwide demand for potable water is projected to accelerate, while natural reserves of fresh water are generally flat or diminishing. Desalination of seawater or brackish groundwater is expected to make up the difference. However, desalination of water is energy-intensive, requiring large amounts of electricity and/or thermal energy.
Nuclear energy is an attractive option for large-scale desalination applications, since the thermal energy produced in a nuclear plant can provide both electricity and heat for clean water production, without the emission of greenhouse gases or the variability of renewable sources.
A particularly attractive option for 'nuclear desalination' is to couple a desalination plant with a new generation of designs for small modular nuclear reactors.
The NuScale small modular nuclear reactor design – from Oregon-based NuScale Power – is well suited for the cogeneration of electricity and clean water because of the enhanced safety, improved affordability, and deployment flexibilities of the plant design, which provide a cost-effective approach to expanding global desalination capacity.
Parametric studies were performed to evaluate the technical and economic considerations of coupling a NuScale plant to a variety of different desalination technologies.
The study concludes that a NuScale plant coupled to a reverse osmosis (RO) desalination plant provides the most favourable economics. Furthermore, the NuScale design features offer several flexibilities for coupling to thermal distillation plants and hybrid plant configurations.