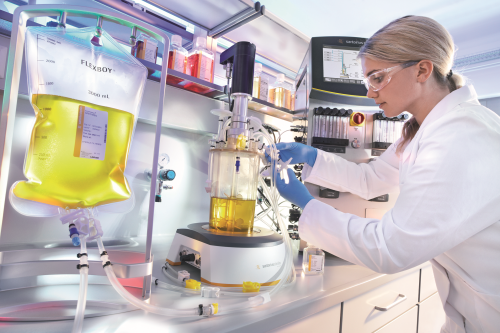 Now, biotechnologists are not only able to choose between single-use and reusable bioreactors and fermenters in the production sector, but in process development as well, where single-use systems are making their mark with advantages like lower costs and faster run times.
During the production of bio-pharmaceutical products like monoclonal antibodies, enzymes or vaccines, the central process step is performed in bioreactors. In a bioreactor, cells are cultivated monoseptically under the most optimally controlled conditions (temperature, pH, dissolved oxygen concentration (DO) and culture media components).
The most frequently used fermenters are called stirred tank bioreactors. Traditionally, they are made of glass (150-milliliter to 10-liter working volumes) for seed and small-scale cell cultivation and of stainless steel for larger applications (ten to several 10,000 litres).
Since the mid-90s, single-use bioreactors have been increasingly employed for cultivating mammalian cells from laboratory to production scale. The advantages of single-use systems are clear: easy handling and no sterilisation or cleaning times.
GMP sector
Especially in the GMP sector, advantages are also gained in that cross-contamination is prevented and costly cleaning validations are eliminated. The first instrumented single-use bioreactor systems to become established were two-dimensional bioreactor bags (2D) like the BIOSTAT® CultiBag RM from Sartorius Stedim Biotech. These systems work with a platform that rocks back and forth; the wavelike, low-shear motion created thoroughly mixes the liquid in the bioreactor bag. Due to their design, the working volume is limited to a maximum of several hundred litres. The considerable demand for single-use stirred tank bioreactors has inspired a variety of manufacturers to develop equivalent systems like the Biostat CultiBag STR, for example.
Read the full article
The digital edition of Filtration+Separation magazine is free of charge to readers who meet our qualifying criteria. Please complete this short registration form to apply for your copy.
Print copies of the magazine are available to purchase.