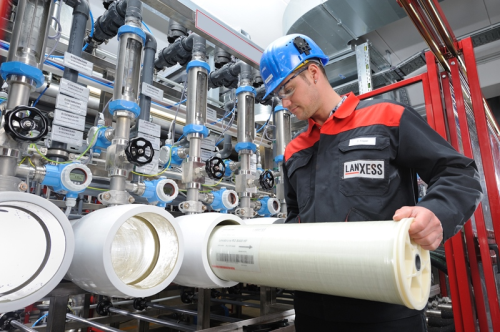 Any improvement of the membrane or element technology can increase the efficiency of the RO process. In a co-research project, Conwed Plastics and LANXESS' Liquid Purification Technologies business unit have proven that innovations in feed spacer technology lead toward enhanced RO element performance.
Reverse osmosis: the process
Reverse osmosis is a water purification technology to remove mainly monovalent ions (e.g. NaCl) that utilizes a semipermeable membrane. An applied pressure is used to overcome natural osmotic pressure. Such RO membranes are being offered as spiral wound elements for a huge variety of desalination applications. Frequently known as scrim, mesh, net, or netting, feed spacers act as one of the layers of spiral wound RO elements and provide vital separation between the membranes to achieve superior filter performance.
Typical 8 inch RO modules as being used in many water treatment applications.
Read the full article
The digital edition of Filtration+Separation magazine is free of charge to readers who meet our qualifying criteria. Please complete this short registration form to apply for your copy.
Print copies of the magazine are available to purchase.