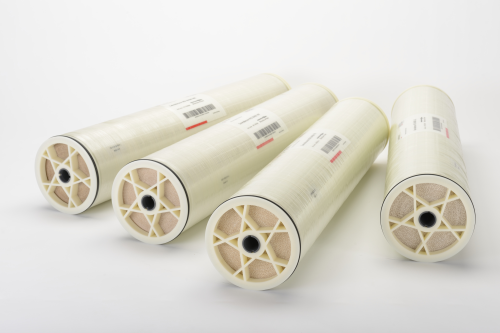 The reverse osmosis separation elements are being used to treat water from the Danube for a refinery in Pancevo operated by Naftna Industrija Srbije (NIS).
Multiple-stages
The river water used in the NIS refinery at Pancevo is sourced around 15 km away from Belgrade at the tributary of the River Timi? into the Danube. It is pretreated using flocculation and ultrafiltration before passing through three reverse osmosis trains, each equipped with 132 Lewabrane RO B400 LE elements. Each train is capable of treating 100 cubic meters per hour. The permeate is subsequently desalinated using a multiple-stage process with ion exchange resins from Lanxess. Just under 30 cubic meters of Lewatit exchange resin of the types Lewatit MonoPlus S108, Lewatit MonoPlus M500 and Lewatit IN42 are used for this purpose.
The water treatment plant was built by WBG, WasserBauGesellschaft International mbH, from Kulmbach, Germany. The plant was laid out using LewaPlus software from Lanxess. "We derived the required plant parameters based on a water analysis, using this to determine the pump performance and the size of the reverse osmosis and ion exchange plant," explains Jens Lipnizki, Head of Technical Marketing Membranes in the Liquid Purification Technologies business unit at Lanxess.
Low energy
The elements used are a low-energy type that operate at pressures between 20 and 40 percent less than the company's standard elements, which reduces the pumps' energy consumption to the same degree. The low-energy (LE) membranes are particularly beneficial wherever high flow rates and a correspondingly high productivity rate are required, while still retaining a good balance between energy consumption and water quality. The main area of application lies in the desalination of brackish water for the industrial and municipal sectors. The average salt rejection capacity is around 99.5 percent – based on an operating pressure of 10.3 bars.