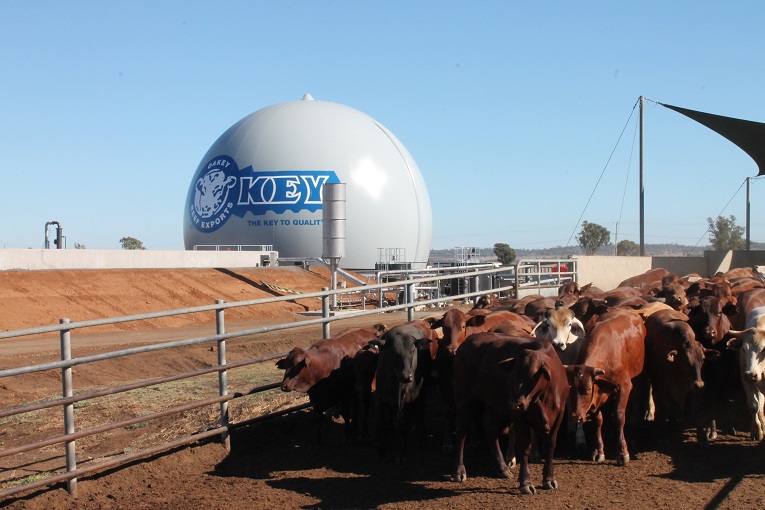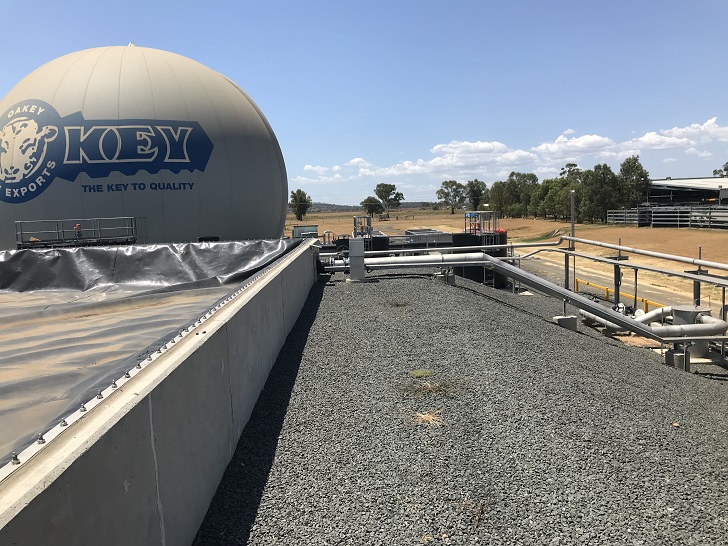 An Australian beef processing plant is showing other food and beverage producers how they could tap into the energy potential of their organic wastewater streams. Here, we look at an anaerobic digestion technology from an Australian environmental engineering and green energy company.
The Oakey Beef Exports' plant, owned by NH Foods Australia, is one of the country's largest beef export facilities, with its products exported to more than 34 countries worldwide. Beef is the first challenge for carbon neutral livestock production and organisations such as NH Foods Australia and the industry's Meat and Livestock Australia are national leaders, working towards a beef industry zero carbon footprint nationally by 2030. 
The Oakey plant on Queensland's Darling Downs uses a Covered High-Rate Anerobic Lagoon (COHRAL) plant from Global Water & Energy (GWE), installed by Australian environmental engineering and green energy specialist, CST Wastewater Solutions. The GWE COHRAL plant installed at Oakey is the first in Australia and one of the first in the world. It is one of the diverse international successes of the Global Water & Energy Group which is currently celebrating the successful completion of more than 400 anaerobic digestion plants around the world.
Award winner The Oakey plant is on target to achieve total ROI over the next two years. The performance of the plant, which underwent a review as it completed its fifth year of service, was so good that it was selected as a finalist in the latest (November 2019) global awards of the International Institution of Chemical Engineers (IChemE). 
The IChemE awards represent engineers worldwide and recognise outstanding projects, people and companies in areas such as water and energy sustainability that benefit society in measurable ways. 
Technology benefits The review of the NH Foods' plant, which stores the biogas it produces  in a 6000m3 spherical polyester storage vessel, showed that the clean, compact and robust COHRAL plant has only required routine maintenance over that time. The benefits during that five-year period were that it: •     Reduced Oakey's dependence on fossil fuel gas by the equivalent of upwards of A$800,000 (US$485,000) a year at current production levels of up to 4000 m3 of biogas a day; •     Provided the capacity to produce even more biogas in the future of up to 6000 m3 a day as stock throughput rises, saving the equivalent of 12,000 tonnes of CO2, equivalent to removing 2,700 cars from the road; •     Radically increased the quality of the plant's wastewater effluent by transforming waste extracted from it into easily and safely stored energy; •     Is paying for itself, with total ROI to be achieved within approximately the next two years and the plant going on to contribute to ongoing profitability.
Green energy The GWE COHRAL plant occupies just half the footprint of comparable covered anaerobic lagoons and a much smaller space than is required by typical energy-hungry and odorous open aeration lagoons in service globally. The biogas generated is directly used in the Oakey plant's existing boiler, where it replaces natural gas, and sharpens cost efficiencies at a time they are most needed during the current Australia-wide drought. 
The GWE anaerobic digestion technology involved in the COHRAL installation and in compact reactor (tank) installations of the technology is applicable to any industry with a biological waste stream. This includes food and beverage applications and livestock processing operations drawing on a global population of about one billion cattle, as well as a billion sheep, 750 million pigs and 16 billion poultry. 
In addition to reducing greenhouse gases by using natural gas as an energy source, the Oakey Beef Exports' plant is radically improving wastewater quality by removing far more than the originally specified 75% of organic content, the Chemical Oxygen Demand (COD) from effluent. The necessary pre-treatment prior to the GWE COHRAL system also leads to better recoveries of valuable protein and fats, which would normally end up in the wastewater. This is an indirect benefit to the bottom line as well as increasing reliability by isolating clogging waste from the high-performance wastewater treatment plant.
Industry sustainability Managing director of CST Wastewater Solutions, Michael Bambridge, says the plant is an example of a sustainability-focused company in the meat and livestock industry, which is particularly significant, given the United Nations Framework Convention on Climate Change, which recognises that beef is a major greenhouse gas (GHG) emitter with the beef sector of the livestock industry estimated to produce about 14% of all GHG emissions.
Companies like NH Foods Australia are taking proactive steps over a broad front to bring these totals down and ensure long-term sustainability and environmental benefit, says Mr Bambridge, in addition to reducing greenhouse gases by using natural gas as an energy source. 
Oakey Beef Exports says the plant is extremely successful. A spokesperson for the company said: "Energy costs are only going to go one way. The more efficient we can make this the better off we are." 
Mr Bambridge added: "The wind doesn't need to blow, and the sun doesn't need to shine to produce this green energy, it is a highly viable renewable in its own right, which complements the many excellent solar and wind energy sources suited to other projects. Ultimately, the plant will pay for itself with biogas then go on to produce virtually free energy for many years after that."