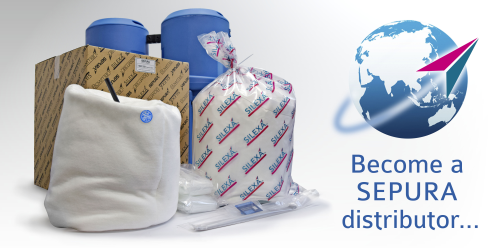 Developed by filtration specialists Bowman Stor, SEPURA™ filtration technology is a range of oil-water separators covering compressed air systems from 60-7000 cfm. First launched in 2004, the Sepura separator concept treats air compressor condensate and is promoted as an easy-to-use separator with no moving parts and a 100% performance guarantee.
Since then, Bowman's research and development team has created the SILEXA™ filtration media for condensate treatment. Made from recycled glass bottles, the manufacture claims that this fully sustainable and renewable patented media provides a multitude of benefits compared to traditional medias: 20% more adsorbent, cleaner, lighter and requiring no pre-soaking. Silexa filter media is designed for easy installation and rapid servicing, with outlet quality discharge down to 5ppm.
Fully disposable separator
The Silexa media enabled Bowman to develop the SEP60, a fully disposable separator with its compact, single use and quick-fit design. The SEP60 forms part of Sepura's range of low, mid and high range separators.
Bowman has established a growing network of international agents with contacts across Europe, the United States, the Middle East, South Africa, South America and Oceania (Australia, New Zealand, Fiji & Papa New Guinea). The company is also working to develop links in China, having translated the full Sepura website into Mandarin and providing access to downloads, brochures and instruction manuals.
Managing director Richard Potts believes the new site will be an important resource for distributors and end-users, "We have included a translation of our Sepura separator sizing calculator to ensure end-user installations are fitted with the appropriate capacity unit".
The genuine article
The brand-building campaign includes the development of new packaging on all Sepura service kits. This ensures that customers can be confident they have genuine Sepura products containing Bowman's patented Silexa filtration media. It is important that buyers can distinguish Sepura products from imitations says Richard Potts; "Only Bowman's Silexa patented oil selective, hydrophobic, oleophilic media, offers this level of performance combined with environmental benefits".
Bowman has developed procedures to ensure that all Sepura products meet the demands of its global customers and it has now gained ISO9001 - 2015 certification for the design, manufacture and supply of filters & filtration equipment. "Charlotte Brown, our Quality/H&S Auditor has risen to the challenge and has been key in implementing the new standard", says Richard.
Bowman's next goal is ISO14001 and the company looks to add the stamp of effective environmental management to a business that is already delivering a range of sustainable solutions to filtration systems around the world.