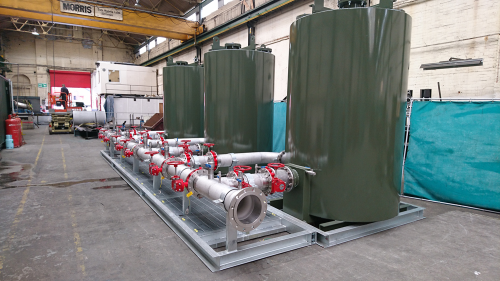 Removing impurities
Providing the population with clean drinking water is a dirty job. Many processes need to be implemented to remove impurities from waste water. These processes need to meet strict compliance regulations to guarantee the production of safe drinking water. One of these processes uses anaerobic digestion, the by-product of which is biogas. The biogas can be used as a valuable source of fuel, provided it is "sweetened" by removing the trace amount of contaminants it contains.
Delivering modern filtration
Activated carbon granules or pellets are used for the removal of hydrogen sulphide (H2S) in biogas streams generated from various sources such as landfills, anaerobic digesters or, as in this application, municipal wastewater treatment plants. A granular form of activated carbon, a material containing highly porous carbon particles, is stored in specially designed vessels. When a biogas stream is passed through the vessel, H2S and other impurities such as siloxanes are removed.
Having recently designed and built two smaller systems to achieve H2S removal for another UK water company, ThermTech was again approached by CC Jensen, a major project management contractor to the water industry. ThermTech was asked to provide a more complex activated carbon system than previously supplied, with several additional challenges. The system would comprise three activated carbon vessels including all pipe work and control valves manufactured in stainless steel. The supporting structure, including a complete skid unit, was supplied, enabling easy assembly and mounting of the supplied equipment on site during the installation process.
The end client, Thames Water, specified a need to select any combination of gas flow routes to any, or all, of the vessels and for each vessel to have the facility to be independently disconnected and taken off-line for purging and maintenance while the plant continues operation. In this way, routine maintenance could be completed without affecting plant efficiency.
The solution
ThermTech designed and manufactured these activated carbon vessels. In this application, the standard vessels had a volume of 4 m3 and met the purification and gas flow capacity requirements set out by Thames Water.
Close liaison was established with CC Jensen and the initial system concept was agreed. A modular style design to simplify both site installation and planned maintenance when the plant is operational was promised. Each design stage was discussed and agreed to provide the smoothest transition from concept to final design. H2S gas is poisonous, flammable and corrosive and in this application, pressurized. A solid engineering knowledge and fine attention to detail is required to provide a safe and reliable system when handling this gas. Material selection plays a key part in this process. Due to its excellent corrosion resistant properties, applicable in this case for the pressurized gas within the system and its external weather resistance, all pipe work, process valves and supporting structure were constructed from 316 stainless steel.
A full document package was supplied on delivery of the system to meet the client's specifications including; General Assembly (GA) and layout; Bill of Materials (BoM) and material specifications; and Piping and Instrumentation Drawing (P&ID). Defined pressure performance data and pressure drop information was also provided, confirming compliance of the system to the original specifications.
Optimized design
The modular construction of the filtration plant offered a number of benefits to the project. Initially, it allowed full factory acceptance testing (FAT) to be achieved before the equipment was delivered to site.
The design took into account the transportation of the equipment to the installation site and aimed to minimize the logistical costs. In addition, the modular layout minimized the installation and commissioning time, which helped to ensure the wider project was delivered on time. The overall selection and layout of the equipment offered optimum performance with the smallest available footprint.