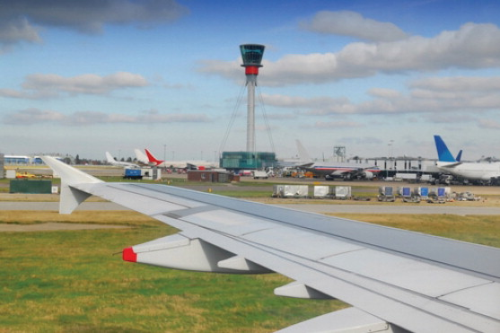 The installation of Vokes Air pocket filters on an air handling plant at London's Heathrow Airport could lead to savings of more than £1 million and reduce CO2 emissions at the airport by 6,000 tonnes per year.
Heathrow is committed to reducing CO2 through the use of energy efficient equipment and processes. This has led Vokes-Air to install its Sysnsafe Revo pocket filters in a number of air handling units at Heathrow in back-to-back trials against its own and competitor traditional filter arrangements. These installations were jointly monitored for air flow, pressure drop, filtration efficiency and power consumption. Whilst there was variance in energy savings on each unit, in all cases the Synsafe Revo outperformed the comparative filters by between 20 and 50%.
"Savings in energy costs brought about by fitting Synsafe Revo at Heathrow have been impressive," said Heathrow's energy manager, James Brittain. "Results from initial tests and subsequent installations are indicating an average of £1,500 savings a year for each AHU [Air Handling Unit]. We are currently rolling out this technology across the airport and forecast that this will save upwards of £1 million and 6,000 tonnes of CO2 emissions per year if performance is maintained."
Simon Hughes, sales director for Vokes-Air said: "All air handling units have different operating characteristics and whilst exact savings are significant, they are impossible to calculate. But in every installation, the Revo has reduced the pressure drop whilst maintaining its efficiency and service life. That the Revo performs at such a high level in what is a challenging environment and provides our client with much needed savings is a terrific win-win for us and Heathrow."
The new air filtration arrangement - which did away with a two-stage system incorporating a pad and bag filter in favour of a single Synsafe Revo pocket filter - has not only produced energy savings but also significantly reduced air handling unit intervention, on-site storage/transportation and lowered maintenance.
There are approximately 6,000 filter apertures in air handling units at the airport and in the past each one had a primary filter which required changing four times a year. The installation of the Synsafe Revo has meant that this is no longer necessary, since its integral pre-filter does not require changing. The result has been a reduction of 28,000 filter removal, installation or disposal actions which has impacted significantly on the amount of waste sent to landfill from the airport; a reduction of 300 m3 each year. Further emission savings have also been realised by not having to transport the pad filters to Heathrow in the first place. The fact that less people are on site for less time is also beneficial for the secure facility.