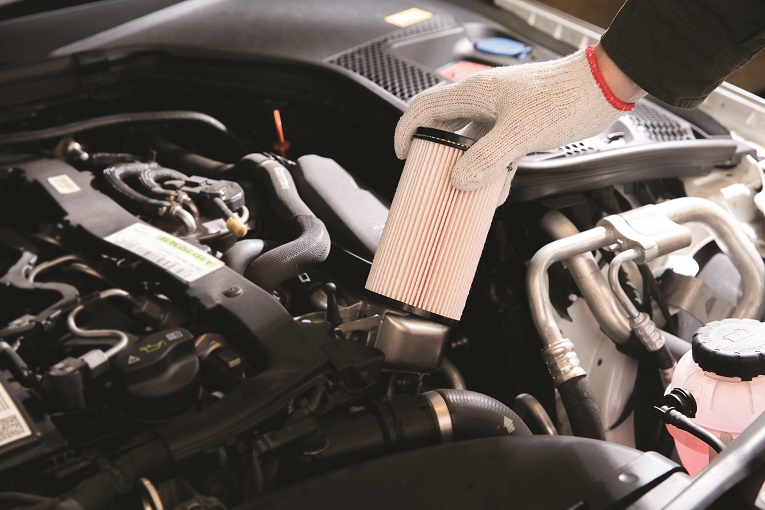 Cellulose has been used in the formation of filter media throughout history. Today's wood-based Lyocell fibers provide a combination of high technical performance and low environmental impact. LENZING™ Lyocell Shortcut fibers are a sustainable raw material for filter media and specialty papers.
The demand for performance improvement, together with an ever-growing awareness of the environmental impact of product manufacture is driving a re-evaluation of the sources of raw materials, production methods and alternatives to the disposal of materials at the end of their life.
Lenzing Group's commitment LENZING™ has increased its capacity to produce the company's range of precision Shortcut Lyocell grades at its UK factory, proving a commitment to the production and supply of Lyocell Shortcut fibers as a sustainable raw material for filter media and specialty papers. 
The tripling of the LENZING™ Lyocell Shortcut capacity at its Grimsby site is a part of the company's sCoreTEN strategy to provide specialised solutions to fulfil its customers' needs. LENZING™ Lyocell Shortcut fibers are also available from its US facility located in Mobile, Alabama.
Andy Slater, product development manager for Industrial Applications at Lenzing, said: "We have experienced sustained growth in the demand for LENZING™ Lyocell Shortcut fibers in filter media applications over a number of years.
We anticipate accelerating growth in the usage of these high performance fibers as demand continuously builds for increased product performance, sustainable low carbon manufacture and responsible end of life-cycle product disposal."
Sustainable raw material The use of 100% cellulose LENZING™ Lyocell Shortcut fibers has been established in filter media ranging from lightweight tea bags and coffee filter papers to automotive and industrial filter papers and heavyweight depth filter media. The environmental footprint of media which contains the Lyocell fibers is reduced compared with many competitive materials, due to the sustainable origin of the raw material, the award-winning low environmental impact of the fiber production process and the natural biodegradabilityof the cellulosic fiber structure.
Fibrillar micro-structure A critical characteristic that differentiates LENZING™ Lyocell fibers from other manufactured fibers is the ability to be fibrillated, prior to the sheet formation process. The fibrillar micro-structure of the Lyocell fibers results in the liberation of fine fibrils, which emanate from the fibre surface during wet abrasion in a refining process commonly used within papermaking processes. The fine fibrils enable control of sheet pore structure in the subsequent wetlay formation process and give a significant increase in the fine particle filtration efficiency of the filter media.
For customers who prefer not to refine fibers or otherwise prefer to receive Lyocell in a ready fibrillated form, LENZING™ Lyocell Fibrillated is supplied as a ready-to-use fibrillated Lyocell fiber at a specified target freeness.
Enhanced packaging In addition to expanding the number of grades for LENZING™ Lyocell Shortcut fibers and introducing LENZING™ Lyocell Fibrillated fibers, the company is also enhancing the packaging of its LENZING™ Lyocell Shortcut fibers.
The introduction of 10kg sacks is targeted at customers who require precise net weight ­packages for direct addition to their stock preparation without additional weight checks. The sacks are designed for manual handling and reduce waste packaging materials more effectively than the ­cardboard carton packages previously used.
For customers requiring larger fiber packages, flexible big bags (FIBCs) with net fiber capacities up to 820 kg are available in ­addition to 300kg fiber bales, which are film wrapped to protect the fiber from contamination or water ingress during transport, handling and storage.
LENZING™ Lyocell Shortcut fibers are ­available in a range of specifications, addressing the needs of papermakers and filter media producers. The fibers are derived from sustainably grown wood that is harvested from certified and controlled sources following the guidelines of the LENZING™ Wood and Pulp Policy. 
These fibers are also available with FSC certification upon request. The LENZING™ Lyocell Shortcut fibers are produced using a low environmental impact manufacturing processes configured for accurate cutting of fiber lengths down to 2 mm. All LENZING™ Lyocell standard fiber types have been certified as compostable and biodegradable under industrial, home, soil and marine conditions, so that they can revert fully back to nature.