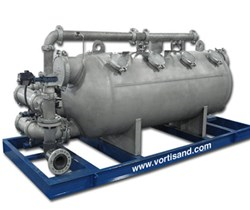 The Top 30 consists of mid-to late-stage companies that originate from a variety of cleantech industries and have a proven track record in their home market, with the goal to expand internationally. Each company was evaluated based on their position for value capture in their industry, and investment grade. 
The Global Top 10 winners and one Grand Prize winner will be determined by a panel of investors and announced at the 5th annual CleanTech Investing Seminar in Lausanne, Switzerland on 3 December 2014.
Sonitec-Vortisand was selected as a finalist for the award based on the launch of the H2F Vortisand. This new product brings this technology to new markets and segments including large cooling towers, pre-treatment for reverse osmosis systems and other high flow applications.
The H2F Vortisand is suitable for process waters such as pre-treatment of reverse-osmosis membranes, water recovery, rain harvesting, irrigation, data centres, district cooling and large industrial cooling towers.