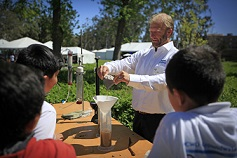 The objective of the festival was to educate children aged between 8-11 about local water issues and the environment and to help them understand how they can protect water supplies and their own environment. Hydranautics view it as a valuable opportunity to educate the minds of future filtration professionals and engage interest in this field, as well as a way for the company to provide positive outreach to the community.
The presentation by the Hydranautics technology team was entitled, Membranes Under Pressure, and was a 20-minute hands-on activity session conducted for groups of 45 participants throughout the day. The activities included water filtration experiments to educate students on how contaminated water with suspended solids is treated using hollow fibre membranes for producing drinking water. Fun-filled activities where volunteers were blindfolded, drank a glass of water and guessed the water source, generated a lot of interest and excitement among the participants.  
Membranes Under Pressure by the Hydranautics technology team was a great success and facilitated children's understanding of our depleting water resources and led the movement to drive technology and research within the community.