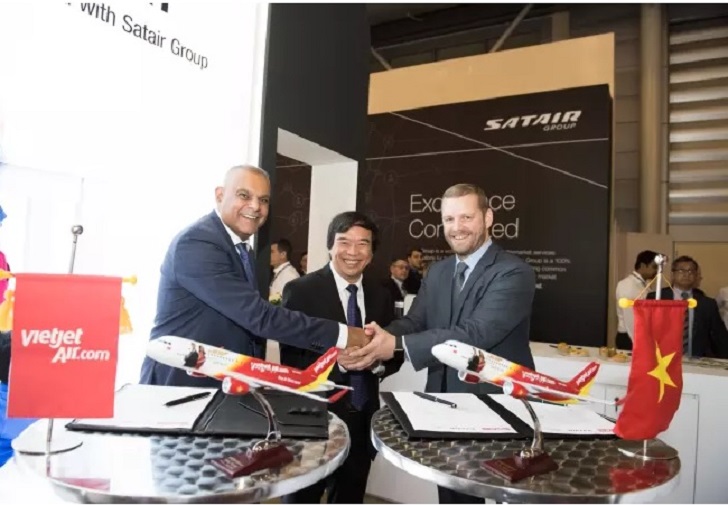 Vietnamese airline VietJet has signed a five-year contract for the fitting of Pall Aerospace's Avionics Cooling Filtration System on its fleet of Airbus A320 aircraft. The Pall system is designed to combat water ingress and dust build-up in the avionics compartment.
The deal covers the 92 aircraft VietJet operates and has on order. It is valued at around US$1.4 million.
The contract was signed at the MRO Asia-Pacific exhibition by Nguyen Duc Thinh, Vice President Technical for VietJet, Steve O'Connor, Vice President, Aerospace Asia at Pall Aerospace, and Paul Lochab, CCO of Satair Group, the exclusive global distributor for Pall Aerospace's commercial aircraft aftermarket business.
Satair reports that this is the largest Pall Aerospace Supplier Furnished Equipment (SFE) contract it has won in Vietnam.
The Pall system uses a patented cyclone separator system to remove free water from the air intake. It is said to deliver enhanced dust protection in the avionics bay as well as maintenance cost savings due to the improved filtration. Satair also reports that Pall's system requires only one filter element compared to two in the original system, leading to lower inventory holdings. 
Airbus subsidiary Satair, a provider of aftermarket solutions for the civil aerospace industry, and Pall Aerospace, part of filtration, separation and purification specialist Pall Corporation, have been working together for 25 years.
According to Satair's Paul Lochab, since signing its first distribution agreement with Pall Aerospace in 1991, Satair has become the world's largest distributor of filtration products for the commercial aviation industry.