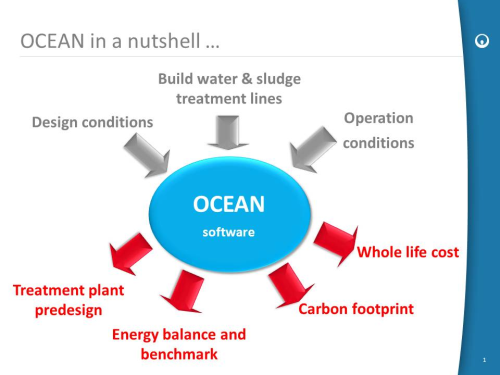 Engineers at Veolia Water Solutions & Technologies have developed a software package, OCEAN, which is aimed to help change attitudes and approaches to municipal wastewater treatment. 
'A sewage treatment plant should no longer be viewed as a disposal facility', the company's literature states.
'It can be an opportunity to generate energy, recover resources, and recycle water thus reducing our reliance on fresh water supplies. OCEAN can contribute to this by, for example, identifying energy-saving solutions and changing wastewater treatment from a net importer of resources into a net exporter.'
''Raw sewage has a potential to generate 0.6 kW/m3, but most of this is lost in the treatment process" said Kieran Healey, synergies and integration manager of Veolia.
"With a typical plant consuming 0.3 – 0.4 kW/m3 of raw wastewater treated, there is clearly potential for improving energy sustainability."
To achieve  this improvement it is necessary to know how the various treatment process units interact with each other so that options can be identified – such as retrofits like improved process control or capital investments like thermal hydrolysis. 
OCEAN calculates energy balances, sludge production and carbon dioxide emissions so that the options can be evaluated.
The inputs to the software are the treatment process units, the design loads and the operating parameters. 
Using benchmark data collected from over 3,500 Veolia municipal wastewater treatment plants around the world, OCEAN constructs a plant model including chemical consumption, sludge production, energy balance and carbon dioxide emissions. OCEAN displays these graphically so that alternatives can then be quickly compared against the current parameters to assess potential performance improvements and cost savings.