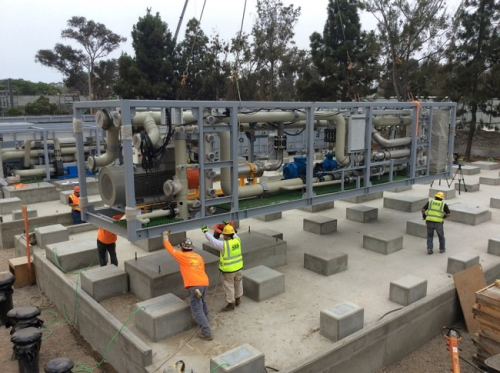 VIDEO: Charles E. Meyer Desalination Facility project update.
IDE Americas won the contract to design, build and operate the seawater desalination plant in September 2015. The reactivated facility will use 40% less energy than the original design, greatly reducing its electricity demand and carbon footprint, by using high-efficiency pumps, motors and IDE's energy-efficient reverse osmosis (RO) filtration technology.
The capital costs to reactivate the plant, which has a capacity of 3,125 acre-feet per year (approximately 3.8 million m3), are an estimated US$70 million. Annual operating costs are expected to be about $4.1 million at full production, but the facility could be put into standby mode during rainy periods to reduce operating costs to around $1.4 million. 
Reverse osmosis process
Seawater will enter the desalination facility from 2,500 ft offshore at velocities of less than 0.5 ft/s. It will use ocean intake pipes equipped with wedge wire screens with 1 mm openings to minimize impact on marine life. Once on shore, the seawater will go through a series of filters to produce ultra-pure water. The facility will use reverse osmosis treatment for removal of salt from the seawater. Natural minerals will then reintroduced into the water to make it compatible with the city's other water supplies. The waste brine from the desalination process will be blended with the city's treated wastewater and discharged into the ocean over 1.5 miles offshore. 
Expansion possible
The original Charles E. Meyer Desalination Facility was built in 1991 at a cost of $34 million in response to severe drought conditions experienced during the late 1980s. It operated during 1992 but was then moved to long-term standby mode as the drought lifted. In July 2015, following five years of low rainfall, it was decided to reactivate the plant.
The recommissioned facility is currently undergoing testing. Under the original schedule it was expected to start supplying potable water to the distribution system in October 2016 but a number of delays have been encountered due to contaminated soils on site and replacement of electrical transmission equipment from the old facility. 
The city has the option to expand the facility up to a capacity of 10,000 acre-feet of water annually if drought conditions continue and additional water is needed.