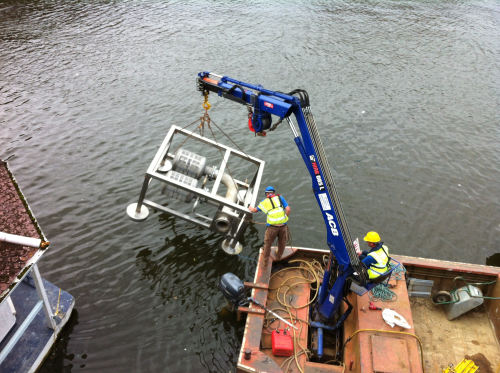 Kingston Heights Open Water Heat Pump and filtration System has won in the 'Best Product or Technology' category of the Climate Week Awards 2014. 
The Kingston-upon-Thames development, overseen by United House and NHP Leisure Developments, carried off the prize earlier this week at a ceremony in London.
Kingston Heights is a large-scale development in Surrey of 137 residential apartments and a hotel and conference centre. When complete it will receive all its heating, hot water and cooling using the solar energy stored naturally within the River Thames, with a pioneering Open Water Heat Pump System that went live in Autumn 2013.
It will save an about 500 tonnes of CO2 a year.Once finished the development  will be extremely eco-friendly, benefitting from a highly sustainable Open Water Heat Pump system that will provide all the heating, hot water and cooling (for the hotel) requirements for the development.
The Open Water Heat Pump system works by recovering the solar energy stored naturally in the river water. Up to 150 litres of water a second is abstracted after passing through a two-stage filtration process. The water then passes through high-efficiency heat exchangers to harvest the low grade heat before being returned to the river with a temperature change of no more than +/- 3°C.
The process is totally environmentally-friendly, producing no negative impact on the environment or river ecology. The scheme, which utilises Mitsubishi Electric's advanced Ecodan heat pump technology, produces zero on-site carbon emissions, in contrast to the estimated 500 tonnes of CO2 that would otherwise be emitted by a combustion-based system, and is projected to reduce household energy bills by around 16% per annum. The Climate Week Awards aim to raise the profile of the most inspirational and impressive actions taking place in every sector of society to allow people to live and work more sustainably across Britain.  
To read more about this project and its filtration processes, click here www.filtsep.com/view/36802/effective-filtration-at-water-level/
Why not sign up here tinyurl.com/mnc7d6p & receive unrestricted access to the content on Filtration+Separation.  It will only take a few moments, and you will gain access to the digital edition of the magazine as well as a whole host of special features, news and more.