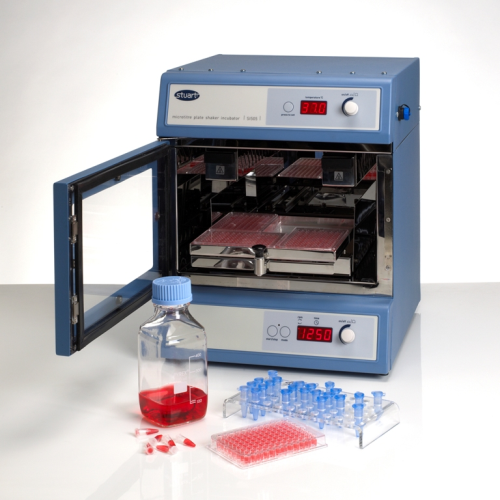 The chamber of the Stuart® SI505 from Bibby Scientific can accommodate up to four standard microtitre or deep-well plates, or two racks holding 0.2, 0.5 or 1.5 ml micro tubes. It can produce a high speed orbital shaking action making it suitable for mixing of samples in even the smallest vessels.
The incubator incorporates a microprocessor which can control temperature between ambient +7°C and 60°C. The versatile integrated timer can be set from 1 second to 9 days. It also features removable water reservoirs which can increase the humidity in the chamber of the SI505, minimising sample loss due to evaporation. Tests have shown that at 78% humidity, samples incubated at 37°C for 24 hours in lidded microtitre plates lost on average only 6% of the total sample to evaporation, based on a 200µl sample in each well. The warm air feed from above also prevents condensation of sample on the lid, eliminating the risk of light scattering by liquid droplets when the plate is to be read in a plate reader.
Like the Stuart SI500 shaking incubator, the SI505 has a retractable stainless steel platform provides easy access to samples, a digital display which shows the independently controlled temperature and speed, and USB connectivity allows long-term monitoring of the incubator temperature via a PC.
The outer casework of the SI505 incorporates BioCote antimicrobial technology as standard, to minimise microbial contamination.