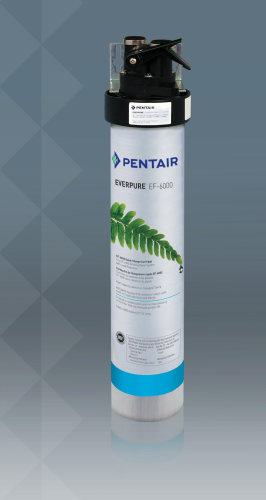 Pentair launched two new commercial grade drinking water products to its residential product lineup at KBIS in Las Vegas, this month. The EF-1500 and EF-6000 are the first two in a series of products set to be released in 2014.
The company is enthused  to present these two new additions to its Everpure "full-flow" product offering.
James Franceschetti, product marketing manager for Pentair's Everpure line said: ''The really ingenious feature of these products is that can be used anywhere in the home: the kitchen, bathroom, wetbar, or outdoor kitchen and can be connected directly to any existing faucet.
''There is no need to drill a hole in the granite countertop or have an extra faucet.  This makes installation easy and reduces the amount of hardware on the countertop.The EF-1500 and EF-6000 filter down to 0.5 microns and remove many substances commonly found in tap water including lead and chlorine.  The systems are rated at 1,500 and 6,000 gallons capacity respectively, and really make the water taste great."
With these new systems, Pentair is now able to offer a filtration solution for nearly every faucet in the home under the Everpure brand. "Our goal is to have an Everpure product for every location in the home where our customer consumes water – that is – 'Everpure. Everywhere.,' you might say," said Neal White, national sales manager for Pentair's Everpure line.
The systems will be available in select US markets only, so attendees are encouraged to contact their local Pentair Everpure distributor for more information.