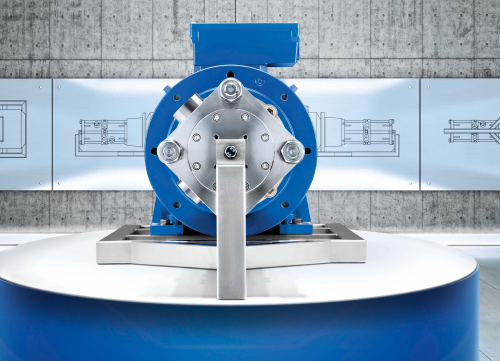 From 11-14 November at BrauBeviale, the trade fair for brewing and beverage technology in Nuremberg, KSB will be exhibing the Salion Pressure Center, a system designed for economical water treatment based on membrane technology, which is aimed at many non-European breweries that must treat their process water themselves.
The Salino Pressure Center consists of an axial piston pump and an axial piston motor, arranged on a common shaft. Driven by the return flow from the membrane, the axial piston motor transfers its power directly to the pump shaft. As pipes are not required between the individual components, the system takes up minimal space and is highly energy-efficient.
Hygienic pump series
The focal point of KSB's presentation in Nuremberg will be the four hygienic pump series Vitachrom, Vitacast, Vitalobe and Vitaprime.The pumps' cleaning and steaming in place (CIP/SIP) capabilities are also promoted by electropolished wetted components and the use of high-grade stainless steels. Whether it be for handling mash and wort or products in the hygienic production area of breweries: thanks to the large number of design variants, these pumps can be employed for almost every task involving the transport of liquid or viscous food. All pumps belonging to the Vita series have been awarded the certificates common to the industry, and their elastomer components conform to FDA standards.
Amtronic valve control unit
At this year's BrauBeviale, KSB will present its multi-functional Amtronic valve control unit for pneumatic actuators which is suited for use in the beer and beverage industry. Amtronic incorporates functions ranging from simple open/close control of a pneumatic valve with open/closed position signalling to control tasks which are independently completed from a higher-level control station.
To represent the extensive KSB valve product range, SISTO-C diaphragm valves will be on display alongside gate valves and shut-off butterfly valves. SISTO-C's components are made exclusively of high-alloy, austenitic materials. The bodies are without dead volume and can be cleaned without leaving any residues. The use of multi-port valves enables very complex systems without any dead end pipe runs (dead legs).