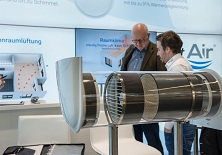 International trade visitors from the installation trade, retail trade, firms of engineers and architects, housing and property companies, service providers, public authorities and universities will meet at the exhibition centre which covers 250,000 m² of space. The largest group of visitors at ISH is the sanitation, heating and air-conditioning installation trade. Among the 2,400 exhibitors who will be present launching their latest products, technologies and solutions at ISH will be the Aircontec industry.
Aircontec is the name given to air-conditioning, refrigeration and ventilation technology, a central component of ISH Energy. It gives the industry an opportunity to present original component and system solutions for renovation work and new buildings in the residential and non-residential sector.
The current focus of the sector is to combine convenience and comfort with efficient technology. Modern ventilation technology not only provides a comfortable indoor environment and hygienic air-exchange, but is also very energy saving through heat recovery, demand-based control and efficient fans. By means of the Ecodesign Directive, the European Union (EU) intends to further encourage the greater use of particularly energy-efficient equipment.
The Aircontec exhibitors can be found in Halls 11.0/11.1 and 10.2.