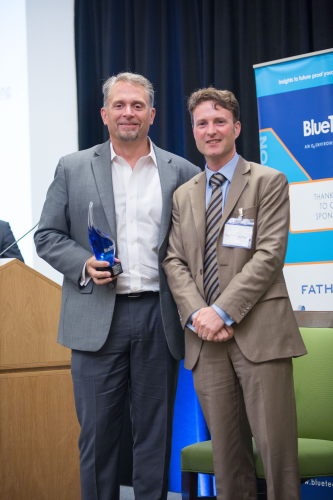 Fathom Water Management, Inc. from Arizona and Spiral Water Technologies of California were selected by market intelligence experts BlueTech Research as likely to transform the shape of the water industry of the future.
Fathom won the Blue Truffle Award and Spiral Water won the Disrupt-O-Meter Award at the fifth annual BlueTech Forum, in San Francisco on 1 June. The winners, chosen from a shortlist of eleven companies, will be invited to join the Innovation Pavilion at the Water Environment Federation Technical Exhibition & Conference – WEFTEC – in New Orleans in September.
Chief executive and founder of BlueTech Research Paul O'Callaghan said: "Both Fathom and Spiral Water have developed products which could have a huge impact on the water industry. Fathom's geo-spatial Smart Grid for Water platform was created specifically for the water industry to manage every interaction between a utility and its customers, while Spiral Water have engineered a self cleaning filter which outperforms its rivals while cutting both maintenance and energy costs."
Paul O'Callaghan presents Ashwin Gulati, president and chief executive of Spiral Water Technologies, with the Disrupt-O-Meter Award at BlueTech Forum.
Also shortlisted for the Innovation Awards were Apana, Hitachi Pegasus, Nanospun, Oasys Water, OptiRTC, Organica Water, Pasteurization Technology Group, Water Planet and Xylem. The fifth annual BlueTech Forum was attended by leading academics, representatives of clean tech companies and water industry decision makers from around the world.