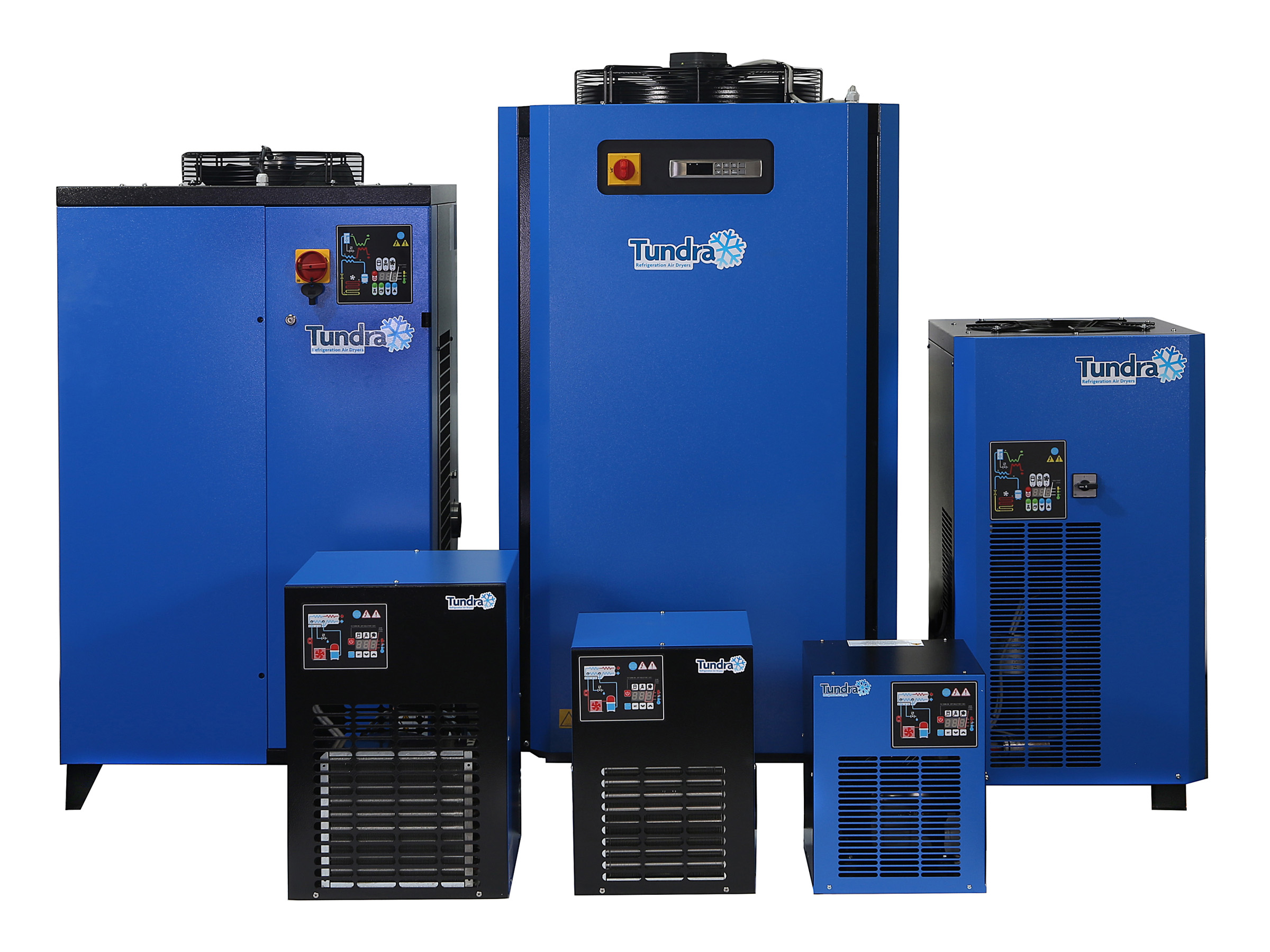 Hi-line Industries has announced a number of enhancements to its Tundra range of refrigeration dryers, which the company claims provide the lowest possible running costs and increased flow via a new Hi-Flo heat exchanger with larger ports.
The 2018 series is offered with a new two-year warranty.
Tundra refrigeration air dryers are employed in applications such as workshop air and machine air in general manufacturing, as well as in sectors that include packaging, textile, food, beverage, medical, dairy and automotive. Dryer selection is based on factors such as maximum compressed air flow, lowest operating pressure, maximum ambient air temperature and maximum air inlet temperature. 
According to Hi-line, the 2018 Tundra range is the most energy efficient to date, helping to drive down energy costs by minimising pressure drop and lowering absorbed power.
Hi-line's integral Direct Expansion technology offers a constant +3°C dewpoint at all times, unlike chilled mass dryers, which can be as high as +10°C during their thermal cycle. A new and improved single-cell, all-aluminium heat exchanger module is said to deliver the most efficient transfer of heat at the lowest energy cost.
Another energy-saving feature of the latest Tundra dryers is the variable-speed fan, which ensures only the required amount of energy is consumed. By controlling the fan speed on the refrigerant circuit, Hi-line has also been able to eliminate components such as fan-pressure switches, which can often become defective in this type of dryer. 
2018 Tundra dryers are built with Scroll refrigerant Freon compressors, which are said to offer low power consumption and deliver a cost-effective, long-life performance. 
The dryers feature a microprocessor-based multifunctional controller linked to the condensate removal valve, thus minimising any loss of compressed air as the condensate is discharged. The 2018 Tundra also has the option of Hi-line's ZLD zero-loss auto drain, which is designed to eliminate accumulated contaminants from pressurised air systems. 
The 2018 series comprises 16 models spanning compressed air flows of 22-1700 cfm (37-2888 m3/hr) and operating pressure of 4-16 barg. Maximum inlet air temperature is +60°C, with ambient air temperature up to +50°C. High pressure (up to 50 barg) and thermal mass versions can be ordered.