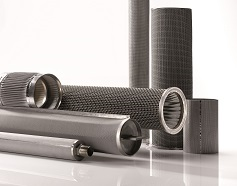 The wide range of weave types and material combinations also opens up new solutions in areas in which metal mesh has not yet been used for optimizing products or processes. These have potential to be used for a broad range of applications from waste water filtration to carpets and, says GKD, provide the inspiration for lateral thinkers to come up with new solutions.
The GKD hybrid mesh couples the typical hair yarn-style appearance of the Perlon Rips woollen yarn from ANKER, which is woven from polyamide fibers, with the typical properties of stainless steel. The warp and weft wires are made of stainless steel and, combined with woollen yarn in the weft direction, are the defining feature of this new mesh structure.
GKD's optimized dutch weaves offer a mesh structure for demanding tasks in ultrafine filtration. In polymer filtration, this special weave with a separation rate of 10 µm is used as ODW10. Due to the specific pore geometry and arrangement, particles settle on the surface, the mesh does not become clogged and the dirt holding capacity increases. Furthermore, the high permeability and mechanical strength underline the efficiency of this mesh structure. As a variant designed for optimized flow, the ODW6 guarantees permanently reliable levels of separation precision in micro filtration, high pore stability and a throughput rate that is up to three times higher than in comparable products. Alongside other areas, this makes it ideal for a multitude of applications in water filtration.  
GKD will be in Hall 3.1, Stand D79 at Techtextil in Frankfurt from 9 – 12 May 2017.