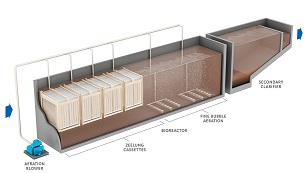 The pilot project is taking place in Borghetto Santo Spirito, a tourist town on the Mediterranean Sea. The plant needed to increase treatment capacity within its existing footprint, so owners, Servizi Ambientali SPA began the pilot programme in December 2016 to determine how much energy it could save by employing ZeeLung MABR and what the potential could be for energy neutrality should it include GE's Monsal advanced digestion technology into a future plant design.
The project's successes include aeration energy savings of four to five times compared to fine bubble aeration, the potential to reduce the biological volume by 50% compared to the conventional activated sludge process, while achieving the same effluent limits and up to 80% nitrogen removal without the need for internal nitrate recirculation.
To date, the ZeeLung technology has demonstrated an oxygen transfer efficiency of up to 40%, with only 2 m of water level. This compares to 6 – 8% for a conventional fine bubble aeration system. Additionally, due to the simultaneous nitrification-denitrification that occurs in the ZeeLung reactor, the pilot is meeting parameters for nitrogen removal.
The wastewater treatment plant currently handles a maximum wastewater flow of about 30 million litres per day or 30,000 m3 per day. If implemented at full scale, the energy savings of the treatment process that is being piloted when combined with advanced anaerobic digestion is anticipated to achieve energy neutrality.
Servizi Ambientali SPA will continue the pilot test of Water & Process Technologies' equipment through to the end of summer 2017.