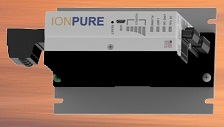 The new technology enables users to enhance the performance of the company's IonpureContinuous Electrodeionization (CEDI) modules. Microprocessor-controlled Digital Communication Rectifiers (DCRs) deliver power to the modules under constant control, which increases energy efficiency and reduces operating costs.
DCRs can operate in multiples from a single power transformer, simplifying system installation. An on-board processor handles digital communications both remotely or in-situ, using true MODBUS® RTU protocol, or 4-20mA signals. This enables easy link-up between the power controller and an existing PLC/HMI, or a dedicated touch panel display.
To cater for analogue controller users with earlier generation PCB power board, or G2 equipment, a Retrofit DCR rectifier has also been launched, offering protection against much higher transient voltages and higher efficiency in a plug-and-play replacement.