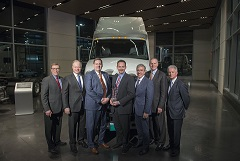 Navistar, a leading manufacturer of commercial trucks, buses, defense vehicles and engines, reserves the distinction for only the top 2% of the company's supply partners.
The Donaldson Company's design of customized air filtration systems helped earn it the Navistar Diamond Supplier award for the second consecutive year. Navistar, which has strict requirements for all of its suppliers, has additional qualifications for its upper-echelon Diamond Suppliers. To be considered, suppliers must have demonstrated the ability to improve Navistar customer uptime and exceed the company's performance expectations for quality, delivery, technology and cost.
When awarding Donaldson this year's Diamond Supplier distinction, Navistar specifically highlighted Donaldson's design of customized air filtration systems for its new LT truck platform and other upcoming products.