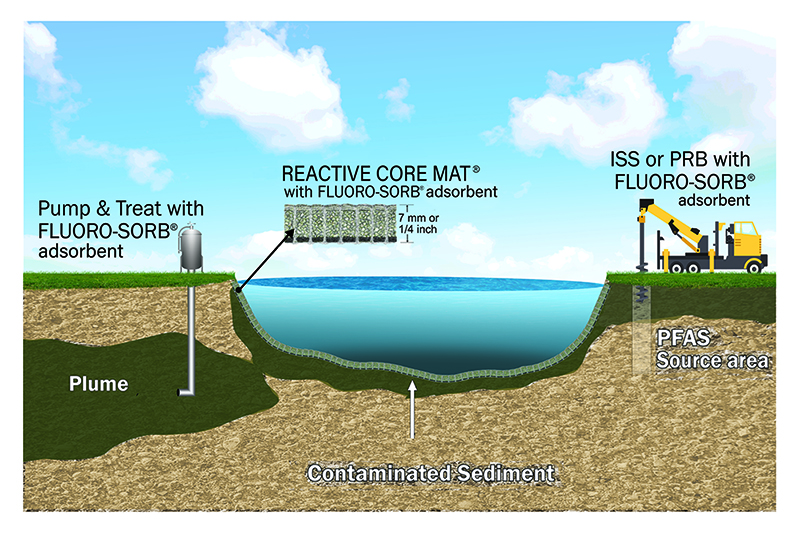 CETCO'S new Fluoro-Sorb adsorbent is a NSF-certified product that treats multiple variants of per- and polyfluoroalkyl substances (PFAS).  
PFAS have been used in everyday products for many years but the chemical has seeped into soil and water and the strong carbon-fluorine chemical bond prevents their breakdown in nature, which allows it to enter the food chain.
Fluoro-Sorb adsorbent binds all PFAS efficiently, including PFOA, PFOS, PFHxS and PFNA in many different removal and remediation processes. It also controls the source of contamination and can be deployed as a flow through treatment media, as a passive in situ treatment (permeable reactive barrier and in-situ stabilisation and solidification - ISS), or used in a CETCO Reactive Core Mat, a composite geotextile mat for sediment capping. 
Fluoro-Sorb resists competitive adsorption from other water and sediment contaminants and due to its higher adsorption properties and higher density, requires fewer change outs than granular activated carbon (GAC). 
It can serve as a pre- or post-treatment media with other technologies including GAC or ion exchange resin (IER) water treatment trains. This compatibility and simple integration maximise the removal of PFAS contaminants whilst improving efficiency.
This video explains in more detail how Fluoro-Sorb can be used.