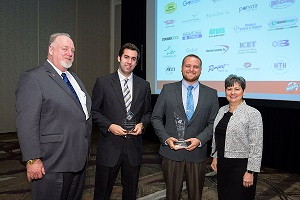 The annual awards recognize the subcontractors and suppliers who supported Bechtel's Nuclear, Security & Environmental (NS&E) global business unit operations during 2016. Bechtel evaluates companies across a number of areas, including overall performance, the ability to deliver quality services/supplies on time, to work collaboratively to meet milestones, and meeting or exceeding project expectations in aspects of safety, performance, technical expertise, and environmental compliance.
Bechtel singled out Porvair's work on developing a first-of-a-kind radial flow HEPA filter capable of meeting the requirements of both ASME AG-1 code and Vitrification Plant environmental conditions.
Since 2013, Porvair's engineering team has worked extensively to develop its high-strength HEPA radial filter element for use in the United States Department of Energy's Hanford Waste Treatment Plant (WTP), currently under construction by Bechtel. During the development process, the team introduced several new technologies, one of which is now under patent review.
"It says much for Porvair that we are working so closely with one of the most respected global engineering, construction and project management companies," said Porvair US president Kevin Nelson. "From the inception of the relationship, Porvair has looked to match Bechtel's relentless drive for the delivery of landmark projects that create long-term progress."