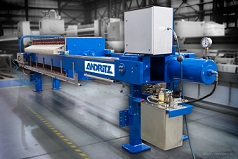 The SP series is primarily intended for the process and wastewater industries and is a so-called air-over-oil filter press, driven solely by compressed air so with no requirement for a power connection.  
By deliberately dispensing with electrical equipment, the SP series is a cost-effective alternative to conventional machines and a further development of the filter presses designed for manual operation only. Due to their easy handling and modular design, the new filter presses can be uses in a wide range of applications in solid-liquid separation. The series is based on a small number of unit sizes, which reduces the need for storage of spare parts and training of operating personnel.
The filter press operates according to the plug-and-play principle. To start up the machine, the operator needs only connect up a compressed air hose at 6 to 8 bar to the pneumatic cabinet.
The heart of the new press is the hydraulic unit operated by compressed air. Once supplied with air, the pneumatically driven high-pressure pump generates up to 400 bar hydraulic pressure. Two-handed control guarantees safe operation. The inflowing hydraulic oil then moves the cylinder that generates the locking force required to close the press securely. After completion of the filtration process, the operator relieves the pressure in the press and opens it again with two-handed control.