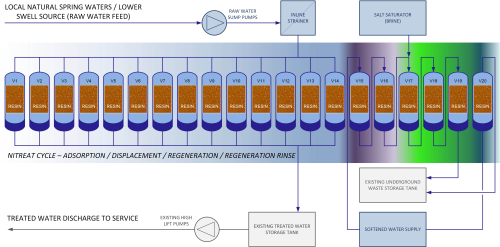 ACWA's solution, which covers design, supply, installation and commissioning for all process, mechanical, electrical and instrumentation works, is based on the company's Nitreat Ion Exchange process.
The design will provide capacity to treat a total raw water flow of 1.5 million litres per day, drawn from natural springs, reducing nitrate content from 70mg per litre to less than 5mg per litre. No blend arrangements are required as this is accomplished further downstream. The ten-month project is due for completion at the end of March 2017.
ACWA is responsible for the decommissioning, removal and disposal of the current treatment system from within an existing plant building at Upper Swell, along with the inspection and refurbishment of existing raw water pumps.
This is ACWA Services' third Nitreat project for Thames Water, and its 27th installation in the UK.