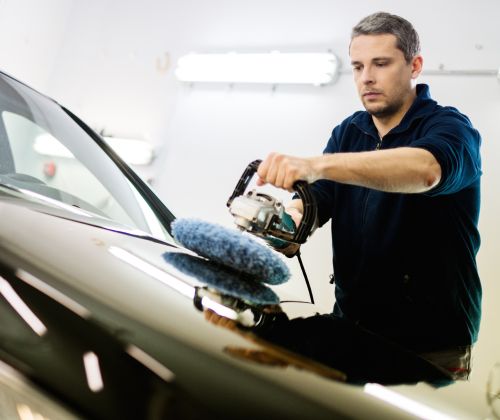 There's a new look about the car world. Whilst the focus in the automotive industry has always been on the fuel – diesel, petrol, gas, electricity – it's water to which manufacturers are turning their attention to ensure the perfect finish on their flagship motors. Looking back over thirty five years of motoring, there have been plenty of innovations in power train technology, but the thing that strikes most non-petrolheads is the vast improvement in bodywork. Anyone who has ever driven a steel-bodied car from the 70s or 80s will be aware of their tendency to corrode at an alarming rate. The protective finish on a car body depends on the excellence of each stage: surface preparation, rinsing, priming, rinsing and finish painting. The surface preparation process typically involves a number of stages including: alkaline de-greasing, water rinse, acid mill scale removal, water rinse, phosphate conversion coating which enhances the corrosion resistance of the metal and also provides an improved base for the subsequent coating and, once again, a water rinse. After the metal is properly prepared, the electropainting process can take place, followed by water rinsing and an oven curing stage.
A double-edged sword  
The move from cellulose to water based paints has been something of a double-edged sword for the industry. On the one hand it required a change of culture from spray application to baths: on the other, cataphoretic application gives improved consistency of dry film thickness and reaches areas of the body that were inaccessible to sprays, enhancing corrosion protection. But the ubiquity of water in the whole process raises questions of water quality. Jaguar Land Rover has recently upgraded to a new deionised water system, supplied by Veolia Water Technologies, at its Halewood factory. The bespoke engineered system, which can deliver up to 90m3/h of deionised water, replaces a 40 year-old ion exchange plant which was reaching the end of its life. To ensure a perfect bodywork finish on all Land Rover models, high purity deionised water (conductivity <0.5μS/cm) is used at all stages of painting from phosphating through to final electrocoating. Average water consumption is almost 30m3/h then, when baths are being dumped and re-filled, this can increase by a factor of three for short periods. Veolia's project management team reviewed the existing plant and concluded that the raw water, degassed water and treated water tanks, along with the effluent neutralisation system, could be retained and designed a bespoke ion exchange plant, based around a standard three stream (duty/duty/standby) Rapide Strata 45+ with HiPol polishing (cation-anion-cation exchange), to produce deionised water of conductivity 0.1μS/cm.
Rapide Strata 45+, a bespoke ion exchange plant with HiPol polishing, to produce deionised water. The skid-mounted plant, together with its dedicated control panel which includes a Siemens graphic display and Ethernet interface to Jaguar Land Rover's network, was installed in a new plant room. This provided continuity of production by allowing the existing plant to continue in operation until the new system had been commissioned, ensuring that there was no interruption to the deionised water supply and keeping the paint line running.
Reducing the water footprint  
The ion exchange deionisation plant uses the latest short-cycle, counterflow regeneration technology with layered beds. This design improves chemical usage efficiencies and reduces wastewater, achieving long-term cost savings and helping to reduce Jaguar Land Rover's water footprint. An additional feature was that the standard design was modified to ensure that all components were silicone-free to obviate the possibility of leaching which would adversely affect the final electrocoat application. Paint lines use a large amount of water for processing and rinsing, and this raises questions of sustainability but, fortunately, a number of technologies are now available to minimise wastewater discharges and allow recycling. Alkaline cleaning baths are routinely dumped but the time between bath dumps can be extended by continuously drawing solution from the bath, passing it through an ultrafiltration unit, recycling the ultrafiltrate to the bath and discharging the retentate containing concentrated oil and grease. The water content of this retentate stream can be recovered by evaporation, leaving behind a concentrated semi-solid waste. The life of phosphating and painting baths can be similarly extended but, in this case, it is the ultrafiltrate that is discharged and the retentate, which contains the pigment, which is returned to the bath. The ultrafiltrate is generally suitable for re-use in the alkaline cleaning step. Rinse waters can also be recycled using ultrafiltration followed by reverse osmosis. There is potential for bacterial growth in the paint and rinse baths and this can be overcome by disinfection using one of several advanced oxidation processes that generate free hydroxyl radicals to destroy biofilms. But even after maximising recycling and re-use of water there are wastewater streams for disposal. Segregating wastewater streams means that they can be treated at source rather than at 'end of pipe'. Here processes like heavy metal removal can be used to make the wastewater stream suitable for re-use or recycling. Where segregation is not practicable, end-of-pipe solutions, like high rate clarification, activated carbon adsorption and evaporation can be used to ensure that the discharge is in compliance with sewer discharge consents. This brief overview of water in automotive surface preparation shows how current water treatment technologies can not only improve the finish on a vehicle body but also reduce water footprint by recycling and re-use. Such an approach to water management reduces both mains water and wastewater discharge costs, giving economic savings and improved sustainability.