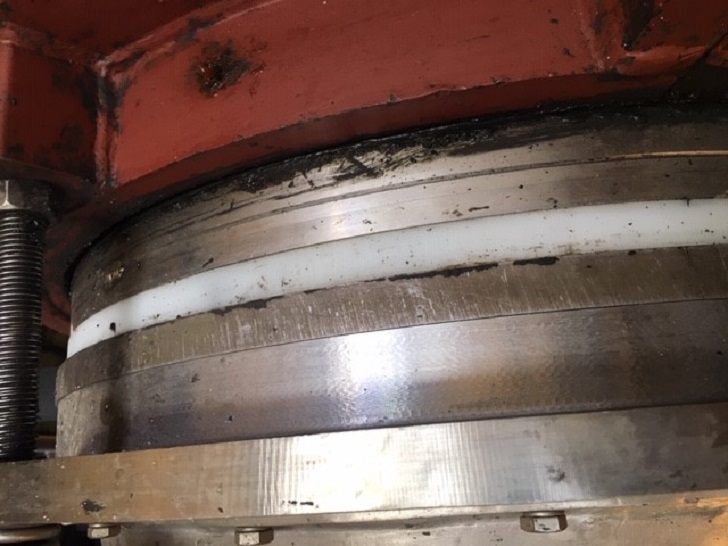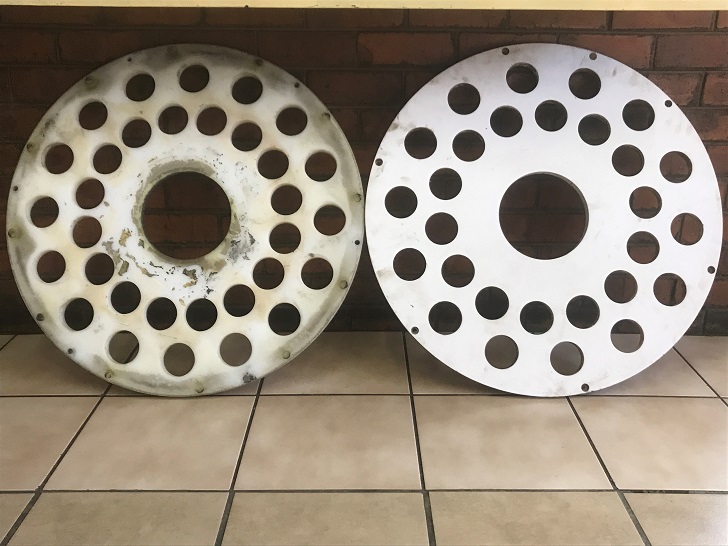 A large food-processing company in South Africa is replacing several of the polyethylene plates on its rotary vacuum filters with plates made of the low-friction, high-compressive strength polymer known as Vesconite Hilube.
This follows the successful use of the Vesconite Hilube plates on one of its rotary vacuum filters.
Rotary vacuum filters are used for dewatering, washing and clarification, and rely on a vacuum to suck the water content out of a slurry mixture in which a vacuum drum rotates. After dewatering is completed, a dry cake remains on a cloth-covered drum, while the clarified liquid in the drum is transported out of the drum through a series of pipes.
Success Vesconite Hilube wear plates have been successfully used at the interface between the vacuum drum and the exiting pipes at the South African company.
The processor's mechanical department maintenance coordinator informs that the 800-millimetre-diameter 25-millimetre-thick Vesconite Hilube plates need to ensure that there is an adequate seal that prevents the liquid from leaking.
They also need to have sufficient compressive strength to be secured by a trunnion plate, he says, noting that the equipment agent's wear plates were of a much softer material and that this resulted in wear and eventual leaking.
Correct alignment In addition, they need to have the correct pipe exiting alignment, with 16 holes in place for some of the rotary vacuum drum designs and 14 for other of the designs.
Testing continues to verify the comparative wear life of the polyethylene wear plates and their replacement Vesconite Hilube wear plates.
The processing company's maintenance coordinator reports that the Vesconite Hilube plates have outlasted the polyethylene plates, but the exact wear life of both the polyethylene and Vesconite Hilube plates is unknown.
Several variables can change the life expectancy of a plate including the installation personnel, alignment between the drum and the plate, and any drum vibration.
Reducing down time The intention with the Vesconite Hilube plate installation is to keep the drum vacuum constant and reduce machine down time that is caused by having to replace plates.
The food-processing company has nine rotary vacuum filters on site.
The company processes 800 tons per year of maize and produces dry milled starch and various grades of glucose for the food, beverage and pharmaceutical industries, as well as byproducts for the animal feed industry, among various other industries.