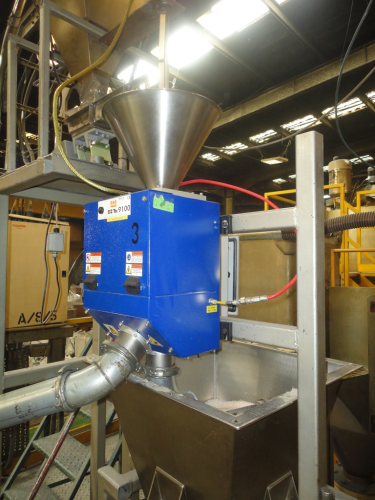 As a manufacturer of engineering polymer products, Petlon offers a range of prime, recovered (R-Prime) and recycled materials as well as material recovery from waste products out of manufacturing operations involving polymers as well as PET.
The plastic waste material is collected, shredded, granulated and then used as a base feedstock in the manufacture of high end engineering compounds. Removing metals is key to the quality of those compounds.
Designed and manufactured in South Wales, United Kingdom, the EZ-Tec 9100 is a vital part of the process, removing ferrous and nonferrous metals in order to protect expensive machinery and ensuring all finished products are free from any metal fragments
 "Due to the potential of metal components in the raw material, protection of equipment is vital. Working together with Eriez has enabled us to develop an upgraded metal separator with a specially designed reject flap which has a longer life and significantly reduces overall repair costs, and down time," said Gavin Rees, managing director at Petlon Polymers.
The EZ-Tec 9100 is a high sensitivity all- metal balanced coil technology metal separator, equipped with a quick acting pneumatic reject mechanism. The model installed on Petlon's production lines detects and removes any ferrous, nonferrous and stainless steel particles with a sphere of more 0.5mm.
High quality
Petlon is upgrading the equipment at different stages in the production flow, where it is used for improved pre-screening as well as ensuring the high quality of the final products.
Easily retro-fitted, this compact metal separator is designed for installation in free fall or gravity-fed applications and can be used as a stand-alone unit or installed in line with the process flow.
"We have been working with the Petlon Polymer engineering team for the last 18 months in order to find a highly reliable, efficient and cost effective solution " said Paul Hale, Eriez sales manager – metal detection,
"Thanks to years of experience in dealing with similar issues and our range of material handling equipment. Eriez could work out a sustainable solution combining magnetic separation, metal detection and vibratory feeders."