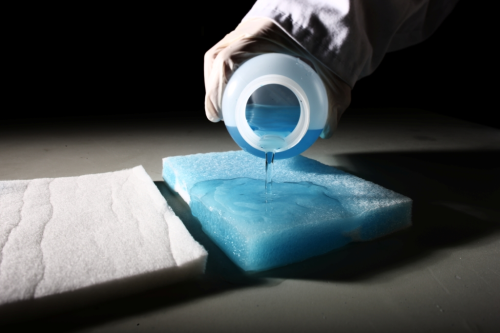 UK-based Technical Absorbents Limited specializes in formulating high performance super absorbent materials for niche applications, in particular in the filtration field.
"Most super absorbent material on the market is in the form of crystals," explains Dr. Mark Paterson, Product Development Director at Technical Absorbents. "It's the material that is used in diapers or nappies, for example, and is manufactured in high volumes around the world. It is a good super absorbent material, but it is not that manageable or easy to handle and has to be contained in some way. On the other hand, a fibre is a much more versatile material. It can be used in a range of material fabrics or made into yarns. These can then be employed in more specialist types of super absorbent markets."
Technical Absorbents first developed its Super Absorbent Fibre (SAF™) over 20 years ago. The basic functionality of SAF is its ability to absorb rapidly up to 200 times its own weight in demineralized water and up to 60 times its own weight in saline water. SAF is white and odourless, and has the appearance and handling characteristic of a textile fibre. Consequently it can be used to produce a wide range of nonwoven and woven fabrics, and yarns.
The company's range of super absorbent solutions are based on its core fibre (SAF) technology.
Dr. Paterson maintains that the origins of the company helped to provide Technical Absorbents with the expertise to develop these specialist products. "The company was originally a joint venture between Courtaulds and Allied Colloids in 1993," he says. "Courtaulds was a specialist in spinning fibres, while Allied Colloids - now part of BASF- had the expertise in polymerization technology. The skill is to get the polymer right in the first instance to provide the desired end-use properties, followed by the spinning expertise and finally the post-treatment processes. We now have 20 years' experience of developing super absorbent fibre products for specialist applications."
SAF is a cross-linked poly acrylate polymer. Technical Absorbents says that this chemistry has been tested for its suitability in application areas requiring a high degree of toxicity and regulatory approval.
"We look at ourselves as a bespoke solutions provider, so we will make a specific solution to meet a customer's requirements," adds Mark Paterson. "We can manufacture different kinds of super absorbent fibres for varying levels of absorbency, for example. We can also vary machine processing conditions, basis weights and thicknesses to change the material properties. Finally, we can then make a number of different materials, such as yarns, felt fabrics, airlaid materials and a lot of different finished goods to meet the application requirement. This is all part of a development process. Using our expertise in a particular area, we can recommend what works best and can provide the customer with a product to test. They may then come back and request that it is a bit thicker, more absorbent or more permeable, for example, and we tailor a product to meet their needs."
Fibre conversion  
Technical Absorbents can supply a wide range of SAF-containing converted products either in-house (needlefelt/needlepunch) or through one of its toll converter partners. SAF can be converted into a number of fabric and yarn structures using different web-forming processes, and can be blended with a range of synthetic and natural fibres.
The company has recently invested in a new needlefelt/needlepunch line at its facility in Grimsby in the United Kingdom. Needlefelt/needlepunch is a mechanical way of binding a web to form a fabric by penetrating the web with an array of barbed needles that carry tufts of the web's own fibres in a vertical direction through the web.
Technical Absorbents says that the new line will provide it with greater flexibility and product development opportunities. The line can produce fabrics up to 2m wide in basis weights from 130-1000 gsm, containing as much as 95% SAF. To help protect the fibre during processing, the line is housed in a temperature controlled and low-humidity environment. The new line will initially be used for research and development, as well as for undertaking short-order trial runs for customers.
SAF can also be processed on commercial airlaid production equipment, blended with a wide range of other fibre types and processed through standard carding systems for nonwoven web forming.
Following the web forming process, SAF webs can be bonded or laminated to permit a number of diverse fabric combinations. For example, spunbond and films can be bonded to SAF containing fabrics for specialist application products. Other bonding technologies used can include thermal, stitch, latex, steam/calendar, ultrasonic, as well as bonding combinations.
Technical Absorbents adds that SAF can be processed by many staple fibre spinning systems. Typically, it can be blended with other synthetic fibres such as polyester, nylon, celluloses and aramids. These fibre blends are normally processed using the cotton and semi-worsted systems. Spun yarns can be produced using common spinning technologies, including OE, Ring, Hollow, Spindle, Repco, Dreft and Pavena.
Applications  
The flexibility that Technical Absorbents can provide to the end product means that there are a great many applications for SAF. These include agrotextiles, geotextiles and apparel fabrics, through to medical, food packaging and hygiene products.
"Packaging for meat is a great example," explains Mark Paterson. "If you have a superabsorbent material and combine it with a polyethylene film, then blood and moisture can be absorbed without any leakage from the packaging. Another interesting example is in the sportswear apparel market. We sell products that go into articles that are loaded with water. As the wearer has the garment on, the water evaporates and acts to cool the wearer down through evaporative cooling. However, on the filtration side our fabrics can be used for some highly specialist applications. For example, for removing water from aviation fuel, automotive diesel or hydraulic oils. A good example is for cleaning oil in a wind turbine."
SAF filtration media products, Filtratas, are widely used for the rapid removal of water from a wide range of oils and fuels. A significant reason for the majority of oil and fuel system failures is the presence of high water levels as dissolved, dispersed and free water. SAF is used as a key component in a range of nonwoven filter media fabrics that are designed to remove such contaminants to very low ppm levels. Aviation fuel customers of Technical Absorbents have developed monitor cartridges that are based on either outside-to-inside, or inside-to-outside, fuel flow. The monitor cartridges feature SAF incorporating a multi-layer nonwoven composite. The cartridges are designed to reduce particulates to less than 0.3mg/litre of solids in effluent and reduce dispersed water to less than 5ppm in effluent. The system flow is halted when the media is hit with a localized slug of water and a gel block is formed. Presence of water/solids in the incoming fuel gives rise to an increase in pressure differential, or a decrease in the flow rate, as the cartridges reach their maximum capacity for solids, water or a combination of both.
A customer of Technical Absorbents has also designed automotive diesel filter cartridges that are composed of a pleated particulate layer and a multi-layer SAF-based fabric. The filter cartridges have been developed to remove free and emulsified water to less than 2ppm. With a high water absorbing capacity, they are claimed to filter silt and other particulates effectively with no media migration or linting. A differential pressure increase indicates when the cartridge needs replacing.
For hydraulic oils, Technical Absorbents has designed high bulk nonwoven filter media that provide good particulate and water removal performance. This results in reduced oil mutagenicity and the risk of contaminant damage to parts and machinery, which extends the working life of the oil. They are combined with other synthetic filter elements within the main housing unit and can be used in both static and portable systems. They can be used with a wide range of oil types, and can remove dispersed and free water to less than 150ppm. The filter systems can be by-pass or full flow based.
Technical Absorbents has recently invested in its own needlefelt line.
Future developments  
Technical Absorbents has a research and development capability, as well as manufacturing facilities in the United Kingdom, although the company has a global reach. "We operate in most areas of the world," adds Mark Paterson. "We are also always looking out for new markets and applications. We have a talented R&D team and I think there are great opportunities for us to expand and take advantage of our unique material and its properties in new and different markets."