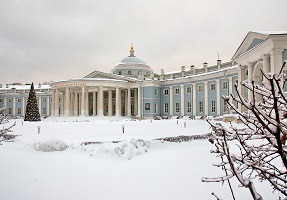 Speaking recently, Tion's CEO, Vladislav Salimgareev, said that the company will be primarily targeting wastewater pumping stations and health maintenance organizations. Over the past decade, Tion has become the largest Russian provider of air purification solutions for health facilities, supplying around 7,000 filter systems for 700 medical centres across the country, including the most advanced facilities, such as the Moscow Sklifosovsky Research Institute of Emergency Medicine.
Small beginnings
Tion was established in 2006 by a small group of young Siberian scientists with very little capital or resources. Salimgareev himself describes it as a "garage start-up", but from these humble beginnings and the efforts of those young scientists, Tion has grown into a national group of companies in Russia which still maintains the spirit and energy of that original young team.
One of the company's specialist areas is developing original filtration equipment. Salimgareev explains about this side of the business: "This equipment purifies air from any type of contaminants with only one pass. This allows us to supply our equipment to a broad range of industries, from medical centres, where requirements for the quality of filtered air are stringent, to wastewater pumping stations, restaurants, even nuclear power plants and ordinary houses."
The healthcare sector has always been an important area for the company, with hospitals and health facilities among its best customers. According to Salimgareev, Tion created a small revolution in the sector when it overcame the problems of the disinfection process in medical centres. Up to this point, heads of medical centres did not trust new technology and would not consider any disinfection process without ultraviolet light.
Salimgareev explains how the company managed to make a difference. "At the very beginning, we started very simply. We went to the chief medical officer, offered our product and offered to test it for them. The healthcare facility itself also conducted testing, measuring bacterial content in the air before, during and after use of our filter system. The difference was quite significant and after a while, we achieved a large number of positive responses from medical centres about the effectiveness of our equipment."
As a result of this, Tion began a period of substantial growth from 2010. According to Salimgareev, sales were doubling every year. Over the next few years the company became a major supplier of filters for healthcare facilities.
Complex tech, easy to use
Salimgareev says that the company's air filter systems are very easy to use, despite their complicated structure. Tion's systems employ multi-stage cleaning and the first stage is a pre-filter.
He explains that the task of the first stage is to separate large contaminants, in order to protect the rest of the system and ensure that it is not loaded with too much dirt. The second stage makes use of an ozone-generating unit or electrostatic unit. Here, two processes are taking place. All pollutants from the air obtainin a negative electrical charge and then they go through the precipitator filters.
According to Salimgareev, the precipitator filters are a vital part of the process and a key element of the company's technology because Tion manufactures these filters itself with the use of nanotechnologies and so they differ from similar products manufactured elsewhere.
"They are produced from a special type of polypropylene. This polypropylene is melted and with the use of a special extruder, a fine thread of this polypropylene winds round the rotary shaft. After that, this filter takes the polypropylene from the shaft. It is very large with holes inside. Because it is so large, it has much more capacity compared to paper filters or HEPA filters," Salimgareev explains.
Nanotechnology
In 2014, Tion was registered as company operating in the field of nanotechnologies. According to the company, nanotechnologies are used during the production of precipitator filters and it can filter out any pollutant which are larger than 2.5 micron.
In general, Tion filters are more effective because of the porous structure and the fact that the company does not apply the principle – "less holes, the less pollutants are able to penetrate." According to Salimgareev, the electrostatic field significantly improves the effectiveness of the filtration mechanism, because all pollutants simply stick to the filtration units. 
Tion Cyclon Aspiration System is installed in various medical centres.
"In addition, the electrostatic field generates ozone in such high concentrations that it can kill all other micro-organisms. All bacteria and micro-organisms caught in the filter-precipitator are deactivated by the ozone. In other words, they are killed at this stage. This is very important for healthcare facilities, especially in terms of fighting against micro-organisms from the first and second group of pathogenicity," Salimgareev says.
According to Salimgareev, Tion is the only Russian company which is licenced for it ability to deactivate the most dangerous pathogenic diseases, like Ebola, anthrax, avian influenza H1N1 or tuberculosis. It is also the only Russian filter manufacturer which conducts equipment tests using a live form of tuberculosis. Medical filter manufacturers in Russia have to submit their products to special tests which prove their ability to kill viruses and bacteria. Only once this is proved is the licence granted.
The Breezer Tion O2 is one of the company's key products.
The last stage of filtration process takes place in a catalyst unit. Its main task is to decompose ozone into oxygen, because for ozone does not differentiate between killing the plague or the good microflora in a person's lungs, so it is crucial that ozone does not escape from the system. The second task of this unit is to decompose chemical pollutants.
Salimgareev continues: "So in the end we have air that has been filtered by using simple mechanical tools to get rid of things like dust, microorganisms, all types of viruses and bacteria and chemical pollutants which are molecular contaminants in the gaseous phase. So at the end of filtration process we get absolutely clean air. This is the entire technology."
Technological advantages
Salimgareev notes that one of the key advantages of this technology is that it has pressure drops of around 4-5 times less than paper filters. This means that when buildings are being designed and constructed, it can be laid down within the ventilation system and take up less space, which in turn leads to more energy-efficiency. 
"In addition, maintenance charges for our systems are low, because of the low cost of replaceable components. Our filters are very economical because of their longer service life. These benefits are important for example, in medical centres that are not easy to reach," he suggests.
According to current Russian regulations, filtration units in medical centres should operate for at least a year, depending on the conditions they are working in. Tion filters can last for up to five years or even more.
Although, in all industrial filter installations of Tion filtration the technology is basically the same, the company varies it a little, depending on the where filter will be used. For example, filters for restaurants differ from filters destined for medical centres which need a lower filter class, which means a more porous structure, and a much more powerful electrostatic unit.
"This is because the quantity of pollutants [in medical centers and restaurants]varies considerably because of where they are. For example, while a laminated ceiling in a medical centre could withstand 15 kg of dust per year, a restaurant filter could receive this amount of pollutant per week and this is also something we are taking into account as we develop certain filtration solutions," Salimgareev says.
The Tion Clever is the company's filtration system for apartments.
Meeting the challenges
Although Tion's focus on medical centres was deliberate, Salimgareev says that the product approved for medical centres could be used in other sectors. This has opened up a broad range of opportunities for the company's further development in Russia, but also brought some challenges in terms of moving into foreign markets.
"In general, the medical centres sector is one of the most guarded, almost as much as the military sector. This means that in each country there are dozens of regulations and standards which apply to filtration equipment used in healthcare," he says.
According to Salimgareev, in western countries, there are different ways that medical centres are built and also different technical requirements for filtration equipment compared to Russia. For instance, in Europe customers are mostly interested in energy efficiency, while in China, especially in big cities, bad environmental awareness raises the issue of maximum filtration of air from pollutants.
However, he expressed confidence in Tion's ability to meet these requirements, saying that the company's products only need to have the relevant certification approved. Tion's management is encouraged about the development of future opportunities in foreign markets.
"This is not about whether we can do that or we can't do that, but about whether we have the available time in our working schedule to deal with this issue. This is something we are working on for the future. We already have sales offices in China and in Europe and our solutions are already export-focused so it is only a matter of time before we are able to export to foreign markets."
Vladislav Salimgareev, CEO of Russian air filter manufacturer, Tion.