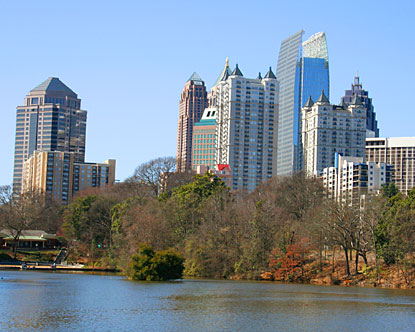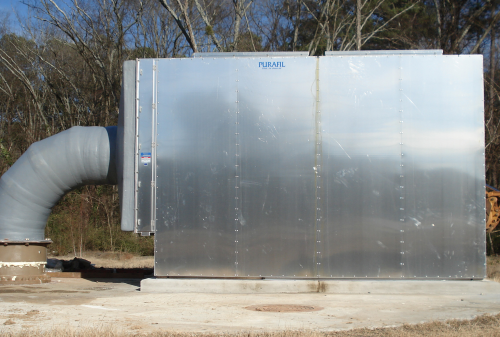 While the city of Atlantain Georgia, USA, is large – comprising more than 132 square miles – it has to hold more than five million people in the metropolitan area. And this population continues to grow, with new housing and shops rapidly being built to accommodate this growth.
An unfortunate by-product of this growth is the increasing amounts of waste and wastewater produced by the densely populated area and the unpleasant gases that result.
Despite living in desirable parts of the city, residents and businesses next to Johnson Ferry Road and Roswell Road began to complain about the smell – not from congested traffic, but from the lingering mercaptans – pungent, unpleasant smells like those emitted from skunks – and other gases that were escaping the nearby sewage air relief tunnels not far from their doors.
Testing for contamination
Purafil, working with engineering firm Jordan, Jones & Goulding (JJG) was called upon to gather air flow measurements at the Johnson Ferry Road site. An outsourced environmental analytical laboratory was used to test the air for levels of gaseous contaminants measured in parts per billion by volume (ppbv). Carbonyl sulphide levels measured 6.8 ppbv and 4.8 ppbv of dimethyl sulphide were detected as the odorous gases within this area.
Purafil decided to install a temporary Purafil Side Access (PSA) unit with CK-12 modules containing one pass of Puracarb media and one pass of Purafil CP Blend Select media to remove the odours and resolve the complaints. The unit was designed to remove odours at 6,000 cfm and it was installed for one year until the permanent unit was constructed and delivered to the location.
The PSA is a built-to-order system designed for both particulate and gaseous contaminant control and works in conjunction with an air handling system. It is available in more than 20 size options with a full range of prefilter selections and particulate final filter selections also available.
Puracarb media is generally designed to neutralise hydrogen sulphide and chlorine present in the bleaching area of pulp mills. It is suitable for odour-control applications and high removal capacity for hydrogen sulphide gas. The new and spent media is non-toxic and can be safely disposed of in landfills. It will not desorb like activated carbon media.
Purafil's Select CP Blend is reportedly effective against a broad range of contaminant gases with documented removal capacities that ensure proper system design. Media replacement is simple with factory-mixed media which can be used use in place of a two-pass media system. It can remove contaminants such as hydrocarbons, VOCs, oxides of sulphur, formaldehyde, nitric oxide, hydrogen sulphide, lower molecular weight aldehydes and organic acids. It can perform effectively in temperatures from -4°F to 125°F and −20°C to 51°C and humidity of 10–95% RH.
It is effective in industrial systems with airflows ranging from less than 25 CFM (42.5 m3/hr) to over 100,000 CFM (169,920 m3/hr) and with velocities from 60 FPM to 500 FPM (0.30 to 2.54 m/s).
Purafil SelectCP Blend Media is designed for 99.5% min removal efficiency in Purafil systems.
A permanent solution
The temporary PSA unit at the Johnson Ferry Road proved it could remove the pungent odours effectively. As a result, the city of Atlantacontacted Purafil for additional odour control solutions at the Roswell Road location. Excessive amounts of hydrogen sulphide and methyl mercaptans were also detected there, along with carbonyl sulphide and dimethyl sulphide. The urgency of the problem again required quick action, and Purafil was able to supply a temporary Double Wall (DW) PSA unit within 48 hours. The temporary DWPSA, which is designed to remove odours at 20,000 cfm, was installed for six months until a permanent solution could be constructed and delivered. The temporary units bandaged the stench until more durable units could be installed.
Some time later, a permanent odour solution at Johnson Ferry Road was established – a single pass Purafil ESD Deep Bed Scrubber (DBS) containing the company's patented Odormix SP media.
Purafil ESD systems are available in a variety of sizes and configurations. The DBS can offer up to four media beds for the control of multiple contaminants in process industries.
It can also be used at small headworks, large pump stations, in screening rooms, and at the discharge of bio-filters. It is sized for airflow from 500 to 8,000 cfm. At the Johnson Ferry Road site, the customised, built-to-order DBS unit was designed to remove high concentrations of odorous gases from the air relief tunnel. It is sized for 6,000 cfm.
At the Roswell Road site, a Parallel Bed Scrubber was installed as a permanent installation. Measuring 15 ft long by 8 ft wide by 11 ft high, the unit was constructed specifically to meet to the end user's needs, and is the first one ever developed of such an immense size – a 15 ft × 15 ft roll-up door had to be installed in the Purafil manufacturing plant in order to transport the unit outside.
The City of Atlantawas satisfied with the immediate service, engineered equipment and media and has since replaced the media in both units. "The units and media at both locations have performed exceedingly well. There have been no odour complaints since Purafil installed the units at both sites," said City of Atlantawatershed project manager Ade Abon said. According to Abon, people living at the two sites immediately noticed that the irritating odours had been removed when the units were installed.