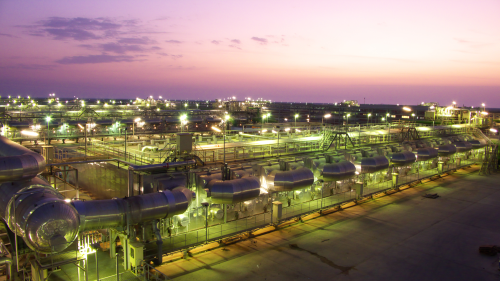 As of September 2013, the amount of new desalination capacity expected to come on line during 2013 was 50% more than previous year's total, according to data from the International Desalination Association (IDA) and Global Water Intelligence. Desalination plants with a total capacity of 6 million m3/d were expected to be operational during 2013, compared with 4 million m3/d in 2012. Data has yet to be confirmed for the last twelve months with the next global plant inventory due as we publish this article, but preliminary numbers suggest that the total capacity of plants that are online or under construction exceeds 82 million m3/d.
While the 2013 growth rate was somewhat lower than 2010, when 6.5 million m3/d of new capacity was completed, Awerbuch told us that the data shows the demand for desalination continues to grow and that an increasing proportion of that growth is coming from the industrial sector.
From 2010 - 2013, 45% of new desalination plants were ordered by industrial users such as power stations and refineries, while in the previous four years, only 27% of new capacity was ordered by industrial water users.
MSF desalination installation at Shuaib, Kuwait (Courtesy of IDA).
Industrial applications for desalination grew to 7.6 million m3/d for 2010-2013 compared with 5.9 million m3/d for 2006-2009. Of the 7.6 million m3/d, the power industry accounted for 16%; oil and gas, 12% (up from 7% from 2006-2009); mining and metals, 11%; refining and chemicals, 11%; electronics, 5%; and food and beverage, 3%. Other numerous industrial applications accounted for the remaining 40%.
Seawater desalination continues to represent the largest percentage of online global capacity at 59%, followed by brackish water applications at 22%, river water projects at 9%, and wastewater recovery and pure water systems at 5% each.
Projects
The largest operational desalination plant in the world had previously been the 880,000 m3/d Shuaiba Shoaiba 3 thermal desalination plant in KuwaitSaudi Arabia. This was displaced in April 2014 when the Ras Al-Khair plant went on stream.
As the world's largest seawater desalination plant, for which Doosan won the construction order in September 2010 from the Saline Water Conversion Corporation, the Ras Al-Khair plant produces 1,036,000 m3/d, sufficient to meet the daily water requirements of around 3.5 million people. The plant produced its first freshwater earlier this year, although the project was actually scheduled for completion in December 2015. As the world's largest hybrid plant, the project uses both membrane technology (reverse osmosis, RO at 309,360 m3/d) and thermal technology (multi-stage flash evaporation, MSF with a capacity of 727,130 m3/d). This plant also features the largest single MSF trains composed of 8 units with capacity of over 91,000 m3/d each. The RO plant has 17 trains.
The Ras Al-Khair plant is dual purpose with an export production capacity of 1.025 million m3/d desalinated water and an electricity production capacity of 2,400 MW, providing 1350 MW for the Maaden Aluminum Complex, 1050 MW to the Saudi Electricity Company, and about 200MW for internal consumption on site.
The combined cycle power plant is one of the more efficient power plants in the world. The total length of the double transmission lines from Ras Al-Khair plant to Riyadh and Hafr Al-Batin region will be 1,290 km.
The cost of Ras Al-Khair desalination and power plant project and the transmission lines from the plant has so far reached a massive 6.13 billion USD, according to the IDA.
The largest multiple effect distillation (MED) thermal desalination plant in the world is currently the Jubail Water and Power Plant, a Marafiq plant, built by SIDEM with an 800,000 m3/d production capacity from 27 MED units. The cost was 1 billion USD. This is also a dual purpose plant generating 2744 MW electricity in addition to desalinated water.
The largest hybrid MED-RO plant is the Fujairah II project constructed by SIDEM and Veolia as a green field development producing 2000 MW of power and 591,000 m3/d of water. The hybrid system includes five high-efficiency gas turbines operated in combined cycle mode. The Fujairah I project, owned by Emirates Sembcorp Water and Power Company and commissioned in 2004, comprises a hybrid MSF-RO system again combined with power production with a capacity of 893 MW and a seawater desalination capacity of 455,000 m3/d.
The largest seawater RO plant so far has been built by IDE Technologies: the 624,000m3/d Soreq SWRO plant near Tel Aviv, Israel. It came on line in October 2013. This plant has the unique feature of 16" membrane elements installed in vertical pressure vessels. This compares with the widely accepted, traditional design of 8" diameter membranes installed horizontally.
RO desalination installation at Perth, Australia (Courtesy of IDA).
IDA Desalination Academy
As evidenced above, the impressive growth in desalination continues, with its value for producing fresh water now firmly recognized around the world. Moreover, desalination technologies are used extensively in treating water and wastewater in industrial markets including oil and gas, mining, power production, food and beverage production, and heavy industries. Where once desalination was looked upon as a solution primarily for the Middle East, it is now seen as a critical aspect of water resource management around the world.
"This is, of course, driving the need for more highly trained professionals engaged in desalination and water reuse, with a parallel requirement for ongoing educational and professional development opportunities," said Awerbuch.
The IDA has responded to this need through setting up its Desalination Academy. We now look at how the Academy came about, its current work and plans for future development.
In September 2011, on an initiative of Dr. Corrado Sommariva, the then IDA President, the IDA decided to create a special training program as a part of the IDA Standing Technical Program Committee. Leon Awerbuch was appointed to develop a basic proposal outlining formation of what became the IDA Desalination Academy.
The document points out that, as the industry continues to expand and prosper, so does the need to provide high level, continuing education for all stakeholders. From plant operators to senior level executives and from those new to the industry to seasoned veterans, all stand to benefit from expanded knowledge.
The IDA, the global hub of information for the world's desalination community and a not-for-profit organization, is in a unique position to meet this need with members including the world's leaders in all aspects of the desalination industry. Recognized around the world for its leadership and the excellence of its technical programs and specialty conferences, the IDA has a sharp focus on education and sharing of knowledge.
Education is a critical part of the IDA's stated mission of "the development and promotion of the appropriate use of desalination and desalination technology worldwide in water supply, water reuse, water pollution control, water purification, water treatment and other water sciences and technology." The IDA Constitution specifies that this mission is realized through various activities including:
• Exchanging, promoting communication and disseminating information.
• Serving as a public forum to provide information on related subjects including water reuse.
• Cooperating and communicating with national and international governmental, institutional, and private agencies in matters relating to research, development and appropriate utilization of desalination, desalination technology, and water reuse techniques.
• Arranging and conducting regional technical, training, management, and technical transfer seminars, workshops, and courses.
• Promoting operator training and certification.
• Assisting universities in developing and conducting courses and/or curricula.
In Rome, in May 2012, the IDA directors made a unanimous decision to establish the IDA Desalination Academy and appoint Awerbuch as Interim Dean to develop the organizational and program structure.
Strategy
Based on the initial proposal, a strategic plan was developed and the mission of the IDA Desalination Academy was defined, so as to provide the highest level of education and training for individuals, utilities, companies, institutions, universities and other organizations focused on the many aspects of desalination. Awerbuch said, "We have created a curriculum and a structure that offers an exceptional learning experience – one that inspires innovation and fosters excellence in the field. With courses held around the world, the IDA Desalination Academy makes learning accessible."
The vision for the Academy is to be the world's foremost source for professional training and continuing education on desalination and water reuse. Its 'Master Instructors' are the leading experts in their fields, distinguished by their combination of theoretical and practical knowledge and experience.
The Academy courses provide an opportunity for managers, students and engineers to expand their knowledge in all aspects of thermal, membrane and hybrid desalination technologies and practices. Also on offer are advanced modules dealing with other important topics such as environmental impact, use of renewable energy, and post-treatment as well as the management and economics of desalination. At the same time all participants have the opportunity to network and establish relationships with people representing different aspects of the industry. The Academy provides a comprehensive set of training events around the world to expand its reach and local relevance, and provides trainees with an in-depth understanding of desalination and desalination technology. Courses are co-located at leading water events, offered as standalone opportunities, and are also offered to companies to enhance the knowledge of their staff. To differentiate, the teaching is delivered in three modules (basic, intermediate and advanced) with the aim of targeting different levels of participants.
Vertical RO membrane housings at Soreq, Israel (Courtesy of Boris Liberman. IDE Technologies).
The primary goals of the Academy are to:
• Advance professional knowledge and skills for individuals working in desalination.
• Create the preeminent global institute of higher learning about desalination, offering a comprehensive set of training events in various locations around the world.
The IDA has developed and entered into faculty agreements with academy instructors. There are currently 11 faculty members and visiting instructors. The designation of 'Master Instructor' brings the dual benefits of theoretical knowledge and hands-on experience that offers real-world insights to each course participant. Drawn from IDA's membership, they have demonstrated their abilities in training or conducting courses. The instructors have a minimum of ten years of industrial/plant experience in their specialty area, an engineering/science background, and a minimum of five years' experience in professional training in desalination.
The governance of the Academy rests with its Board, which includes the Dean, who is responsible for making recommendations to the Board and for carrying out the day-to-day arrangements. The Board of Governors' key responsibilities are to establish strategic direction priorities and recommendations, ensure the quality of educational provision, challenge and monitor performance, manage finances, ensure that the Academy complies with the non-profit status of the IDA, and assure a positive impact on the reputation and relationships of the IDA. The Board of Governors brings independent judgment and experience and applies this for the benefit of the Academy, IDA and its wider desalination community.
The Board composition includes, as ex officio, the immediate past president, and two past vice presidents, past treasurer and the current Dean. The membership automatically changes every two years and gives an important role for the officers to play. Current members are Corrado Sommariva, Fady Juez, Emilio Gabbrielli, Michel Canet and the Dean, Leon Awerbuch.
Training
The Academy currently offers the following types of programs: Co-located events These are held in conjunction with major water events around the world. Courses have been presented at various conferences including the IDA World Congress. In its first two years, the Academy has conducted classroom programs in Singapore (three times); Jeddah, Saudi Arabia; Santa Margherita, Italy; Tianjin, China; and Abu Dhabi, UAE.
Online courses
In January 2013, the Academy launched, in collaboration with David H. Paul, Inc. (DHP), an online training program: the International Reverse Osmosis Certification (IROC). The IROC curriculum was developed by DHP, a recognized leader in advanced water treatment training programs for more than 25 years. The IROC program is a 675 hour internet-based training program that is not only knowledge based, but also is a hands-on proficiency certification.
The IROC core curriculum is composed of six electronic books (around 2,000 pages) of highly illustrated text. Each book has 12-16 chapters. The material is presented in a step-by-step, easy to understand manner. Each chapter has a glossary of terms, text and a practice exam with answers. Upon completion of a chapter, an IROC student takes an exam online.
Each student must demonstrate proficiency in operation, maintenance and monitoring of real equipment prior to receiving an IROC Certificate. Certification is accomplished by formalizing an agreement with the supervisor of each student, and having the supervisor verify that the student has successfully accomplished each of the tasks in the hands-on proficiency checks.
Standalone courses
Examples in this area include tailored courses that are developed for specific organizations as private training for their staff. The IDA has entered into agreements with the Public Utility Board of Singapore, the Saline Water Conversion Corporation of the Kingdom of Saudi Arabia, King Abdullah City for Atomic and Renewable Energy, and is awaiting finalization of an agreement with MASDAR of Abu Dhabi. Here the IDA will organize and provide courses based on mutually agreed dates and course length, and mutually approved subject topics. They will help to promote the event and ensure attendance of participants in the course.
Academic Partnerships
One of the more important achievements of the Academy was an agreement which took effect from May 2013, made between the School of Built Environment, Heriot-Watt University (HWU) in the UK and the Academy, for the purposes of establishing and offering jointly a program of study leading to a Master's Degree (MSc) in 'Water Technology and Desalination.' The first courses will be offered in January 2015. Further details are included in the next section.
Similarly, the IDA has received an enthusiastic response from China to establish an IDA Academy Center initially with Tianjin University in cooperation with Tianjin Institute of Seawater Desalination and Multipurpose Utilization, the State Oceanic Administration and the Science and Technology Commission of Tianjin.
During the 2013 IDA Congress in Tianjin, the IDA signed an agreement with Tianjin University to create a tri-party program with HWU. This will be further developed after the initial program with HWU takes place.
In addition, Desalination & Water Reuse magazine is conducting a series of international virtual symposia in partnership with the IDA Desalination Academy. The webinars cover a variety of subjects from desalination in oil and gas, to renewable energy for desalination, including the impact on carbon footprint and costs.
"As a result of these efforts," Awerbuch explained, "we believe the Academy provides unparalleled opportunities for members of the desalination industry to expand their knowledge while reinforcing the IDA's positioning as the world's leading resource for information and knowledge about desalination and water reuse."
Heriot-Watt University / IDA Desalination Academy MSc
The first courses in 'Water Technology and Desalination' will be offered in January 2015. The master's level postgraduate course is based around four modules.
Membrane Processes
Topics include theoretical and practical information about performance and operating conditions of RO and nanofiltration technology for brackish and seawater desalination. The program includes an introduction to membrane technology, description of commercial membrane elements, and illustration of the membrane system design process and overview of systems operation. The course is directed toward students who are familiar with basic water technology, with the objective of providing practical information on commercial products, the design process, operation conditions of membrane systems and economics of the membrane desalting and water treatment applications.
Thermal and Hybrid Processes
Topics include theoretical and practical information about performance and operating conditions of thermal and hybrid desalination technology and systems for seawater desalting. This course will focus on the basic and advanced understanding of design and operation of MSF, MED and thermal vapor compression (TVC) processes as well as the hybridization of thermal and membrane processes. Understanding the differences between MSF, MED and TVC is critical for any student of desalination. The desalination industry requires good knowledge and the ability to take advantage of thermal processes. Increased knowledge of thermal processes leads to innovation in desalination and a continuous reduction in cost.
Topics
Topics include theoretical and practical information about performance and operating conditions of intake, pretreatment and environmental considerations. Good intake structure and pretreatment are crucial for seawater desalination success. In the creation of a successful design for a seawater RO membrane desalination plant, great attention is always paid to the pretreatment of the raw seawater before it reaches the RO membranes. The pretreatment system must consistently produce water that is relatively free of particles and organic matter. The mechanisms for biological and chemical fouling will be explained and solutions offered to counter them. The use of membrane pretreatment, usually involving micro- or ultra-filtration will be compared with conventional sand or mixed-media filtration and other systems such as dissolved air flotation. Combinations of unit processes will also be addressed. This environmental module will focus on the environmental assessment of seawater desalination technologies in terms of resource use and waste emissions, and on measures for mitigating the potential impact on the environment by sustainable, environmentally friendly designs.
Economics and Management
This course provides a basic approach for capital and operational expenditure budgeting in the desalination industry, with a general overview of water management and planning issues both for RO and thermal plants. The course also provides details of water tariff financial modelling and tariff correction factors, and issues like private-public partnerships. The course will be delivered with practical examples of water tariff modelling and budgeting exercises and will include classroom exercises and discussions. The objectives also include realization of a fair and transparent bid process that will be crucial to achieve competitive bids and, therefore, low water tariffs. The evaluation process for each project will have the objective of identifying the most technically conforming and commercially responsive proposal at the lowest price for water (and power if it is a cogeneration plant) capacity and output.
The Future
For the IDA, visibility in the media is critical in order to recruit interested students or inform the governmental institutions, utilities, developers and individuals about the availability of comprehensive training. This is important due to the not-for-profit basis of the association.
"People need to be aware of the IDA Desalination Academy," Awerbuch said, "including upcoming courses, the scope of training programs being offered, and how to get involved. They need to understand all the options, and how it's different from any other training program being offered."
In addition to the collaboration with Heriot-Watt University and the opportunities in China, the Academy has initiated discussions with Massachusetts Institute of Technology (MIT) in Boston, USA, to provide, at MIT's request, specific courses for their graduate students. The hope is that more universities around the world will be interested to enter into agreements with the Academy.
The Academy will also work closely with members of the IDA's Young Leaders Program and is discussing the possibility of organizing a Mentoring Program to meet the educational needs of future leaders of the desalination and water reuse Industry
"Additionally," Awerbuch explained, "we see a great opportunity to expand the IDA Desalination Academy into Latin America, and we are evaluating the possibility of arranging a membrane desalination course co-located at the IDA's first international conference in Latin America, to be held in Rio in March 2015. We also are exploring the possibility of conducting Academy training in developing countries, with sponsorship by corporations who will nominate students for our program."
The IDA is exploring a fixed location in the Greater Boston area (near IDA headquarters, USA), where courses can be organized for professionals as well as students at the many colleges and universities in the area. A permanent facility for the Academy would require a donor who believes in the IDA's mission and would work with the IDA to establish the necessary investment and location.
"That reminds me of a widely-circulated tale," Awerbuch added, "that describes Leland and Jane Stanford's supposed visit to Harvard University's president, dressed in a suit of homespun cloth and a faded gingham dress.
"Harvard's president, the story goes, rebuffed their offer of money for the University. 'A building! Do you have any earthly idea how much a building costs? We have over seven and a half million dollars in the physical plant at Harvard.' And the lady turned to her husband and said quietly, 'Is that all it costs to start a University? Why don't we just start our own?" so the couple went west and founded Leland Stanford Junior University!"
Coupled with the impact of climate change, it will be interesting to see how these various initiatives develop over the next few years, and how the increasing contribution of the IDA in providing quality professional development and training impacts upon the rapidly expanding and dynamic desalination industry.