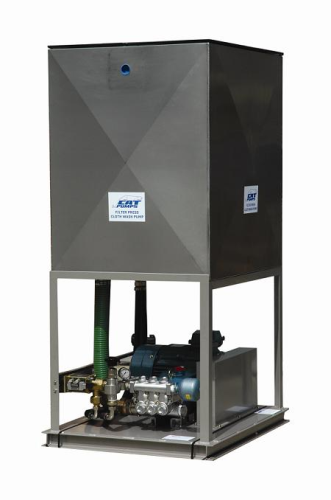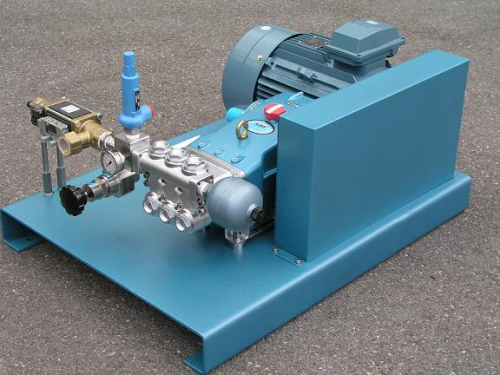 With environmental legislation imposing even tighter restrictions on the treatment of industrial wastewater, effective filtration is increasingly being seen as an essential part of the overall treatment process. In order for filter presses to satisfy the purpose for which they are designed, that being to separate solids from liquid and form a filter cake, each filter cloth has to be capable of allowing the optimum level of filtrate to pass through during each operating cycle.
The creation of a high quality filter cake, in other words one that has a high solids and extremely low liquid content, is largely dependent on the effectiveness of the filter cloth. If the filtrate is unable to pass through the filter cloth, then the cake will retain more moisture than is desirable. This means that periodically the filter cloths within the press have to be thoroughly cleaned, for clean cloths result in a better quality filter cake and filtrate. In addition, regular cleaning will help to extend the operating life of the filter cloth.
Creating the cake
The process of creating a filter cake involves pumping wastewater slurries into the chamber of the filter press, where the filtrate is forced through the filter cloth. The solids are collected on the filter cloth forming a cake, which is allowed to build up until the chamber is full of dewatered solids. At the end of the cycle, the cake and filtrate are removed and cleaning takes place.
Effective washing is best achieved by using an integral, automated spray arm system, with the cleaning water being applied at high pressure. In order to enable manufacturers of filter presses to attain the highest levels of cleaning efficiency, Cat Pumps offer a "Wash Module" based on its proven high pressure positive displacement pump systems.
High-pressure washing increases the efficiency of the filter press by cleaning particulates, fats, oils, proteins and other hard-to-remove residues from the cloth, opening the weave to increase water throughput.
Automatic cloth-wash systems are faster than manual washing, reducing out-of-commission down-time and improving consistency of cleaning.
Cat Pumps' customised high pressure pump modules for filter presses typically incorporate pressure regulator valve, safety valve and diverter valve, which off-loads the pump during idle times, reducing energy consumption and pump wear (see Figure 1). Customers can also take advantage of the option of integral 316SS high capacity overhead supply tank and water intake filter which protects the pump and prevents blockage of the spray nozzles.
"We take responsibility for water feed to pump, level control and low-pressure returns to tank from valves," reports Brian Hubbard, General Manager, Cat Pumps (UK) Limited. "Our positive displacement pumps provide rates up to 360 l/min and pressures up to and exceeding 100 bar. Furthermore, we have options of conformance to ATEX and API specs for hazardous areas."
The excellent field-proven reliability and durability of Cat Pumps' triplex positive displacement plunger pumps gained over 40 years, ensures that high volumes of pressurised wash-water are available on demand whenever required. The most popular pump models commonly offered for this application are the Cat Pumps' model 3545 delivering up to 210 litres/minute and the model 6767 delivering up to 285 litres/minute (Fig.2). Even higher flowrates are available, either from a single larger pump or using two smaller pumps in tandem, which results in a high performance wash module at an economical purchase price.
There are considerable benefits to using Cat Pumps, not least of which are that units and spare components are held in stock in the UK. Both the 3545 and 6767 models are constructed from high quality components and can be customised to individual customer's specifications and are full assembled and tested before despatch.•
Contact:                                                                                                                 
Brian Hubbard
General/Sales Manager, Cat Pumps (UK) Ltd
1, Fleet Business Park
Sandy Lane,
Church Crookham
Fleet, Hampshire, GU52 8BF
Tel: 01252 622031                                                                                                   
Email: sales@catpumps.co.uk
www.catpumps.co.uk
Bryan Orchard
Orchard Public Relations Ltd
Tel: 01420 588194
Email: orchard@primex.co.uk