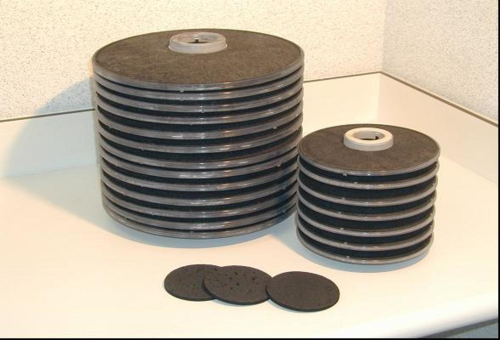 EU food safety legislation aims to protect human health and consumer interests and ensure effective functioning of the single market. Regulations have been updated in recent years to adopt a 'farm to fork' approach encompassing aspects such as animal welfare and plant health as well as environmental factors and contact with materials. The regulations governing contact with materials are generally understood to cover food packaging. Specifications for plastics are particularly comprehensive. The fork and wineglass mark utilised to indicate compliance is widely applied to items seen by consumers, such as meat trays. However, the scope of the regulations also encompasses food-production equipment such as filtration systems. Although major parts of these systems such as housings or pleated filter elements are typically plastics, some small components may be made from other materials for which there is no harmonised document that sets out compliance criteria. So, although there is an obligation to comply, the food-manufacturing sector does not have a complete set of references that can be used to demonstrate compliance. Producing the mandatory Declaration of Conformity thus requires suppliers to take a diligent approach to deliver documentation that gives end users the highest possible level of confidence.
For applications where nominal bag filtration provides the most economical solution, 3M filter bag offering includes polypropene and polyester felt and nylon monofilament materials in a wide range of grades.
Highlights of the framework regulation
The current framework regulation EC 1935/2004 seeks to eliminate differences between laws in EU member states and describes the procedures for authorising substances at EU level. The materials covered are listed in Annex 1 of the document. In practice, EC 1935/2004 sets out general principles for materials and articles intended to come into contact with food. These are fairly straightforward and are detailed in Article 3, which states that materials or articles must not release any substances considered harmful to health or detrimental to food quality under normal foreseeable conditions and should be made with good manufacturing practice. Regulations on good manufacturing practice are harmonised for the whole of the EU in document EC 2023/2006. Article 5 of EC 1935/2004 refers to Specific Measures relating to the groups of materials in Annex I. These are set out in additional legislative documents, such as EC 10/2011 relating to plastics. EC 10/2011 is sometimes referred to as the 'Plastics Implementing Measure' (PIM). Unfortunately most materials are not yet covered by specific measures. Article 16 requires a written demonstration of compliance to accompany all materials and articles, with appropriate documentation available to demonstrate such compliance. Article 17 states that all materials and articles shall be traceable at all stages to facilitate control, product recall, consumer information and the attribution of liability.
The Zeta Plus HT Series from 3M has high-tensile strength to perform efficiently under operating conditions requiring elevated operating temperatures or repeated hot sanitation cycles. Zeta Plus HT filters are made from inorganic filter aids, refined cellulose and cationic resin.
Clarification needed
Although the scope of the regulations encompasses all materials used in the supply chain, the rules for complex items such as water filtration systems are not fully defined at a European level. For instance there is no EC 10/2011 equivalent for components made of rubber compounds, such as O-rings and seals. Hence suppliers of items such as filters for process waters are challenged to demonstrate compliance. Comparable regulation in the US is somewhat clearer. The Food and Drug Administration (FDA) maintains a 'white list' of all materials approved for contact with food. Although this simplifies proof of compliance, the situation is not completely straightforward. A statement of compliance can mean that only constituent materials from the white list have been used, but suppliers are also free to provide a higher level of assurance by testing materials to ensure migration is in line with FDA norms. There is no obligation for the manufacturers of finished articles to clarify which approach they have taken. In the absence of EU-level regulations applying specifically to certain materials, some companies assume that demonstrating FDA compliance provides an adequate assurance for equipment to be used in the EU. However, it does not guarantee compliance with EU regulation.
The Zeta Plus Maximizer H Series from 3M are a family of advanced, dual-zone depth filters designed with two layers to provide optimal clarification and pre-filtration in food and beverage applications.
Hierarchy of standards
A better approach, where no suitable EU-level regulation is in place, is to seek alternative references such as declarations by a respected body like the Council of Europe, or the best applicable standards used within EU member states. The German Bundesinstitut für Risikobewertung (BfR), part of the Federal Ministry of Food and Agriculture (BMEL), is a good example. A hierarchy of standards can be envisaged, referencing the highest-level standard applicable to each constituent material, to demonstrate that the overall goal of the EC 1935/2004 framework has been achieved. EC 1935/2004 allows for the use of national standards: article 6 states that in the absence of specific measures the regulation will "not prevent Member States from maintaining or adopting national provisions provided they comply with the rules of the Treaty."
Ensuring compliance
EC 1935/2004 has proposed the fork and wineglass symbol as a marking protocol for food-contact materials. However, this is applied mostly to packaging seen by consumers and rarely to equipment used for food production. To provide the best possible assurance that filtration products are compliant with the EU regulations, 3M Purification collects supplier declarations for all raw materials to confirm compliance with relevant positive lists, such as EC 10/2011 for plastics. Migration testing is then performed at an independent test laboratory to confirm compliance with specified limits. Products are manufactured in line with GMP requirements and are traceable via lot numbers.
Conclusion
To secure the best possible proof of compliance, food producers need the help of reputable equipment suppliers with the resources to maintain the high standard of documentation needed to support every Declaration of Conformity. Filtration systems are essential to ensuring food safety, but adequate systems need to be in place to ensure that they are fully compliant with the relevant standards. 3M is a trademark of 3M Company.
References:
Regulation (EC) No 1935/2004 of the European Parliament and of the Council of 27 October 2004 on materials and articles intended to come into contact with food and repealing Directives 80/590/EEC and 89/109/EEC. Commission Regulation (EC) No 2023/2006 of 22 December 2006 on good manufacturing practice for materials and articles intended to come into contact with food. Commission Regulation (EU) No 10/2011 of 14 January 2011 on plastic materials and articles intended to come into contact with food (Text with EEA relevance). 
Contact
Andy Ball Product responsibility liaison Industrial Business Group, 3M Purification Phone: 0845 602 5237 Email: 3mpurification2@mmm.com Web: www.3M.co.uk/Purification