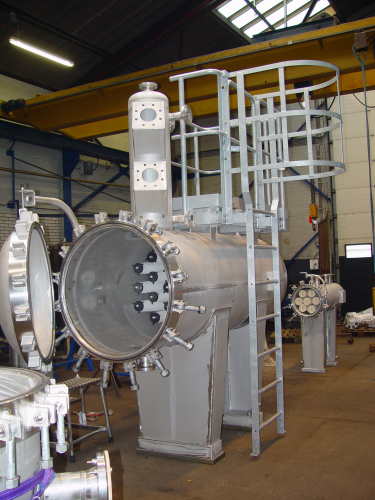 The UltiSep is installed in a Texas plant and was deisgned to
effectively separate contaminants from the gas stream.
Natural gas processing is a complex industrial process — it is not simply a case of collecting it from the ground and channeling it into a pipeline ready for use by anyone switching on their cooker or fire.
Raw natural gas has to be cleaned by separating impurities and various non-methane hydrocarbons and fluids to produce pipeline quality dry natural gas. Elements found in raw gas include low molecular weight hydrocarbon compounds such as methane, ethane, propane and butane. The natural gas extracted from coal reservoirs and mines (coalbed methane) is the primary exception, being essentially a mix of mostly methane and about 10% carbon dioxide (CO2).
Natural gas processing plants purify the raw product from underground gas fields and well heads by removing contaminants such as water, hydrocarbon liquids, particulates, carbon dioxide and hydrogen sulfide. Some of the substances which contaminate natural gas have economic value and are further processed or sold. The more efficient and effective the separations technology, the more a plant can benefit financially.
Pentair's Oil & Gas Separations division was formed in 2007 after the company bought Porous Media which had established itself in the oil and gas industry as a preferred provider of high performance separation technologies. It now plays a significant role in Pentair, a global water, fluid, thermal management and equipment protection business which generates $7bn in annual revenues. It provides solutions in Oil & Gas separations including designing and manufacturing high performance separation technologies for the oil & gas industry.
LiquiSep technology has been implemented specifically to help separate emulsions that are not separable by conventional
coalescers.
Historically these technologies have been applied to the downstream end of the business in refineries, gas processing and chemical plants. But increasingly it is also utilized upstream at the wellhead, offshore on a platform or in gathering facilities for produced water treatment, salt water disposal and more. Primary separation
Dave Kolstad, market development manager for gas processing, has a key role overseeing the gas production side of the business. A significant part of gas production is primary separation using Pentair's UltiSep technology. UltiSep offers gas-liquid separation that helps maximize operational profitability by minimizing entrained liquids in process gas streams.
UltiSep involves the removal of liquids ranging from bulk fluids to entrained droplets as small as a viral particle, with the aim of improving operational efficiency and profitability. The process is 99.97% efficient according to Mr Kolstad. Once that has been achieved, the next stage is to employ LiquiSep technology which separates water from hydrocarbons.
Another example of inlet separation involves the separation of two liquid phases, such as the removal of water from hydrocarbon condensate.
"You don't want to put water into the condensate stabilizer because it really messes up the operation. If there is contamination in the first stage it will move to the next and if it continues through the process, then it can shut down production. Even if a plant is running at 70% capacity, the economics will mean it is not making money," said Mr Kolstad.
A current example of Pentair's LiquiSep technology is taking place at a plant in Texas. There it is providing the separation of 185,000 BPD of propane and 300,000 BPD of butane. Pentair is providing six liquid-liquid separators for this project.
Shale gas Mr Kolstad says shale gas conditioning is relatively simple compared to conventional liquefied natural gas (LNG) production.
"Shale gas does not have the volumes of the big gas wells. A shale well produces tens of thousands of cubic feet of gas every day compared to millions at a conventional well."
Shale has proved to be a major growth driver in recent years and helped the industry overcome the implications of the global recession. That said, the need for cost efficiency is ever-present and much of that occurs in the filtration and separation process which is where Pentair comes into its own.
The prospects are also good. While shale oil and gas extraction has moved rapidly in the United States, Europe has been more cautious but represents a potentially lucrative market that will start to develop in the near future while South America also has major opportunities.
In the meantime, LNG is a developing market with demand growing steadily. "Some reports are suggesting a 20-25% global shortfall in capacity in the next four years," said Mr Kolstad.
Such statistics are good news for major producers such as the US which exports to major markets such as Japan, Australia, Europe and China.
Huge demand "There is huge demand for this product. In the US it is $3-4 per 1,000 cub ft but it is $15 in Japan. This represents a three to four fold premium for the same product and is a huge business proposition," said Mr Kolstad. "And in China they do not have the infrastructure for gas transmission but with LNG they can more easily deliver it right to the point where they need it."
While Pentair's Oil & Gas Separations business is clearly strong in the US, it has identified those major export markets such as Australia, South East Asia and Latin America as being ideal territories for expansion. "Europe is also offering more opportunities as some of the infrastructure is growing older and is due for some upgrades," added Mr Kolstad.
Mature markets such as the North Sea oil field off the Scottish coast also have potential. Extraction is becoming more difficult but technological advances mean Pentair is well placed to help extend the life of such territories, especially when it comes to areas such as specialist separation.
Such applications are helped by ongoing innovation. Pentair's Scientific Testing, Analysis and Research Laboratories (STAR Labs) are staffed with PhDs dedicated to the science of advanced separation applications, ensuring that the company can continue its evolution in a rapidly developing field.