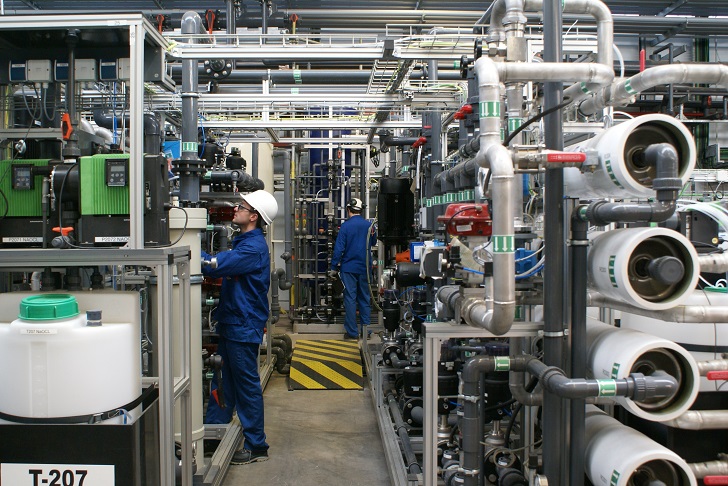 With global demand for water anticipated to exceed viable resources by 40% by 2030 Reverse osmosis (RO) membrane technology will play an increasingly critical role in helping the world produce more potable water, and helping operators and manufactures get the most use out of every drop.
According to the United Nations global demand for water will exceed viable resources by 40% by 2030, so we must reduce consumption and recycle water where possible. Forty years ago, scientists at the North Star Research Institute founded FILMTEC Corporation and introduced thin-film FILMTEC™ RO membranes. The company was acquired by Dow Chemical Company in August 1984, forming Dow Water Solutions.
Advancements in science
Over the last four decades, advancements in science have enabled RO membranes to effectively remove and separate salt and other contaminants and impurities from water at the molecular level, helping turn seawater, low-quality wastewater and raw water into high-quality process water. Originally applied to desalinate seawater and brackish water, the use of RO membranes has expanded to include industrial, municipal, power generation, commercial, residential, oil and gas, food and beverage applications.
The science behind RO technology has also improved their energy consumption and productivity significantly. For example, the amount of treated water generated by a single seawater RO element has more than tripled while producing even higher quality water.1 Ten years ago, an RO cylinder could filter 4,800 gallons of water per day. Now, the same sized unit can filter 6,000 gallons per day.2 The average seawater RO plant consumes approximately 65% less energy compared to 30 years ago,and the average cost of desalinated water has fallen from $60 per m3 to between $0.60 and $1.20. 3
Increasingly viable
RO innovations and efficiencies make the desalinization of seawater an increasingly viable means of meeting local water needs. For example, The Carlsbad Desalination Plant in California uses FilmTec RO Elements to help enable a locally-controlled, drought-proof supply of drinking water for nearly 112,000 households. Compared to the technology available 10 years ago, the plant requires 12% less energy and approximately 23% fewer membranes and pressure vessels to yield the same quality and quantity of water.
As freshwater continues to become scarcer and more expensive, cities are looking to seawater conversion as a way to meet growing water demand. Not every city or community has plentiful seawater resources, but every city and community generates plenty of wastewater, a largely untapped resource. RO is a common component for municipal wastewater treatment and potable reuse applications, where the quality of the reclaimed water is progressively stringent and regulated. In fact, RO technology enables large municipal projects, such as the Orange County Water District's Groundwater Replenishment System. Their adoption of DOW Filmtec RO Elements has lowered the energy required to treat the same amount of water by 13%.4
Growing global impact
While the performance and economic viability of using RO membrane technology has significantly improved over the years, we are still finding ways to increase efficiency. This is of critical importance as industry strives to reduce energy consumption, control pollution and reclaim waste streams. In the US alone, analysts forecast 61% growth in the market for wastewater reuse in municipal utilities over the next 10 years, with potable reuse increasing 4% by 2025.5
As our understanding of water dynamics increase, so will the efficiency and practicality of RO. Because water infrastructure is essential to address long-term water scarcity challenges, Dow is focused on research to support an increased understanding of US waterways and watersheds. Ultimately, incentives for technology implementation and a supportive policy framework that lowers risk are needed for faster RO adoption and local, long-term water investment decision-making.
Research and development is ongoing in the water space, and membrane technology will continue to evolve to help solve emerging water challenges.
Sources 
4 Seen with the 30 million gallons per day (mgd) expansion in early 2015 and compared to the status quo performance of the existing membranes used in the original 70 mgd facility. 5 Bluefield Report
About the author
HP Nanda is the Vice President and General Manager of Dow Water Solutions. In this role, he is responsible for all aspects of the business; formulating global business, technology and asset strategy; building organizational capability; managing strategic growth and innovation portfolio including in-organic growth options and profit/loss management to deliver business results.