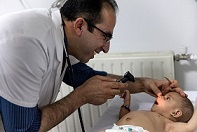 In its mission to provide access to healthcare and education, La Chaîne de l'Espoir needed a partner to help them with the provision of high-quality water to newborns and their mothers at the new Mother and Child Centre at the French Medical Institute for Mothers and Children of Kabul (IMFE). Since its inauguration in autumn 2016, the centre has provided Afghan women with access to high quality gynecological, pre-natal and obstetric care, as well as much needed clean drinking water, in a country where one woman dies every two hours from complications in pregnancy or labour.
Staff at the IMFE provide high quality care for mothers and children.
Water shortages
With increasing pollution, decreasing supplies of reliable rainfall, growing population and water demand, water shortages will affect two-thirds of humanity by 2025. Indeed, global water demand is projected to increase by 55% by 2050 and the United Nations forecast that, by 2030, the world will require 30% more water, 45% more energy and 50% more food.
The water issue is especially alarming in Afghanistan, a geographically constrained region not only affected by climate change, but also by constant conflicts which have led to a lack of water infrastructure.
While Afghanistan's main source of water comes from the mountains, the natural flow of the snow runoff slides down from the mountains into neighboring countries, such as Pakistan and Iran. Indeed, only 30-35% of the water stemming from Afghanistan's mountains remains in the country. The climate of the region and lack of infrastructures increase the problem, as high temperatures melt the snow earlier in the year and the lack of reservoirs make it impossible to store the runoff.  All these factors have created a complex situation for Afghanistan.
Meeting water needs
The extension of the French Medical Institute for Mothers and Children of Kabul was a challenge because the opening of the new centre would increase the hospital's need for drinking from 70 to 150m³ per day. La Chaîne de l'Espoir turned to Dow Water & Process Solutions which has developed a multi-technology treatment system to meet the water needs of the French Medical Institute for Mothers and Children.
As part of its commitment to help produce clean drinking water across the world, Dow Water & Process Solutions, specialists in sustainable water separation and purification technologies, and a business unit of The Dow Chemical Company, developed an installation to provide clean, drinking water to the hospital. "We are extremely proud of how our technologies are making a difference in parts of the world where water scarcity is a challenge in both people's daily lives and all types of businesses. It is vital that we develop tools to treat water and guarantee a more sustainable future for everyone", remarks Alexander Lane, commercial director EMEA of Dow Water & Process Solutions.
Eliminating bacteria
The autonomous unit, which has been developed and deployed by the French company ADH2OC and has the support of Fonds Suez Initiatives (Suez fund initiative), is based on ultrafiltration technology and ion exchange resins. DOW IntegraPac IPD-51 ultrafiltration modules used in the system are comprised of fibers with 0.03-µm pore size that efficiently eliminate particles, viruses, and bacteria from the water. As the outside-in flow configuration provides high tolerance to feed solids, in this case there was no need for pretreatment processes. Additional advantages for the hospital are the small footprint of the system due to its compact design; the shorter, 60 inch length of the modules that make it very suitable for applications with constraints in headspace; as well as the PVDF hollow fibre membranes which are engineered to reduce design and fabrication requirements. 
On the other hand, the AMBERLITE  PWA5 ion exchange resin treats nitrate pollution, which is particularly important for newborns. This kind of resin removes nitrates preferentially to sulfates, and can therefore yield a higher operating capacity than conventional resins.
The new treatment system will allow the hospital benefit from 12m³ per hour of drinking water, complying with the World Health Organization standards.  Overall, the treatment unit has been designed to require minimum maintenance and ensure maximum reliability, in an area where access to maintenance products, spare parts and technical support is difficult. La Chaîne de l'Espoir estimates that its new facility will positively affect 250,000 people.
La Chaîne de l'Espoir estimates that its new facility will positively affect many people in the region.