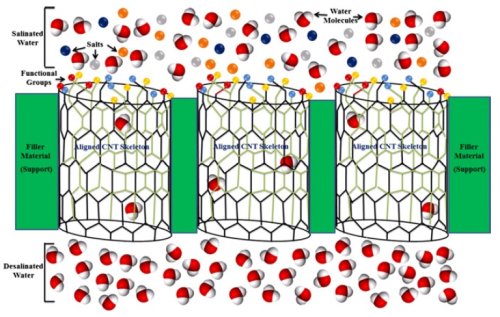 Water pollutants have huge impacts on entire living systems including terrestrial, aquatic, and aerial flora and fauna. In addition to conventional priorities, and newly emerging micro- and nanopollutants, increasing global warming and climate change pose major threats to the availability of fresh water.
Global warming and climate change are steadily increasing the salinity of both land and sea water, reducing the availability of existing fresh water for households, agriculture, and industry. This has made it urgent to invent an appropriate water treatment technology that not only removes macro-, micro- and nanopollutants, but also desalinates water to a significant extent.
The tip-functionalised nonpolar interior of carbon nanotubes (CNTs) provides a strong invitation to polar water molecules while rejecting salts and pollutants. Low energy consumption, and antifouling and self-cleaning functions have made CNT membranes extraordinary over conventional ones.
Here researchers at the University of Malaya in Malaysia and the National University of Singapore comprehensively review molecular modeling and experimental aspects of CNT membrane fabrication and functionalisation for the desalination of both sea and brackish water.
They discuss the current problems and future challenges in water treatment. The article is intended to assist hydrologists, membrane technologists, environmentalists, and industrialists working in the field of water purification technologies to eradicate a fresh water crisis in the near future.